Stone Age Climbing Gym in Albuquerque, already the largest facility of its type in New Mexico, has broken ground on a new facility that will offer more than twice as much space as its current location.
Stone Age Climbing Gym (right) in Albuquerque, already the largest facility of its type in New Mexico, has broken ground on a new facility that will offer more than twice as much space as its current location. Expected to open in January 2014, the $4.2 million project will span 23,000 square feet with climbing walls reaching heights of 43 feet. Edward Fitzgerald Architects of Albuquerque is designing the new facility.
Construction begins this month on the Hub Recreation Center in Marion, Ill. The 72,000-square-foot facility will feature basketball courts, a walking track, a six-lane lap pool, a therapy pool and office space. Baysinger Architects of Marion designed the project, expected to be complete early next year.
Christian sports league Upward Sports has broken ground on a new 60-acre sports complex in Spartanburg, S.C. The 120,000-square-foot Star Center will offer six basketball courts, 12 volleyball courts, batting cages, golf swing analysis, a running track, fitness areas and studios designed for dance, cheerleading, aerobics and yoga. The organization has also partnered with Spartanburg Regional Health Services to offer onsite strength training, rehabilitation and orthopedic services. The first phase of construction will include four sand volleyball courts and six multipurpose turf fields. McMillan, Pazdan and Smith Architecture of Spartanburg is designing the complex, slated for completion in September 2014.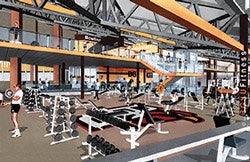 Construction has begun on a new Health and Wellness Center at Antioch College. The $8 million project will renovate the former Curl Gymnasium, built in 1928. The new center will house fitness equipment, racquetball courts, multipurpose studios and a pool. MacLachlan, Cornelius & Filoni of Pittsburgh, Pa., is leading the project, which is the college's third major renovation since reopening in 2011.
Work begins this month on renovations to Bowling Green State University's Student Recreation Center (right). The $11 million project will be the first major renovation since the facility was built in 1979. The Collaborative Inc. of Toledo, Ohio, provided three design options for the university, which opted for a plan that included a new recreation center entrance, expansion of the mezzanine for additional cardio training, upgrades to the gym area, reconfigured locker room space, additional storage space and upgraded finishes and lighting.
First Pitch
The Sparta Township in Michigan has purchased 80 acres of land to build a new Community Recreational Complex. The $3 million project will provide a single playing location for all of the community's various sports. The first phase of the project will construct baseball and softball fields, as well as one soccer field and one football field. Two additional phases will include a sledding hill, a nature trail, a disc golf course and an indoor sports facility... The Marathon County Youth Hockey Association is attempting to raise $865,000 to fund renovations to Marathon Park Ice Arena in Wausau, Wis. The upgrades are intended to make the arena more fan and player friendly, adding six more locker rooms, showers, restrooms and new bleachers... A statewide fundraising effort is under way to provide a much-needed facelift to the 30-year-old Arena-Auditorium in Laramie, Wyo. The majority of the $12 million needed for Phase I has been raised, but an additional $18 million is needed for Phase II. The first round of renovations will include new seats in the lower bowl, a new hardwood court, new video boards, lights and a sound system. The existing training rooms, locker rooms and media rooms will also undergo a complete overhaul.
Grand Openings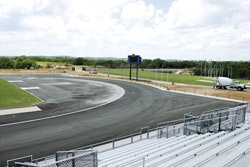 University of Texas at San Antonio soccer team members finally have a place to call their own as they begin practices this month. The first phase of construction of the Park West Athletics Complex (right) is now complete and features a new soccer field to be used for practices and games, including bleacher seating for 1,000 fans. A new track and field stadium and parking lot were also included in the $22 million project. Future phases of the project, designed by HKS Architects of Dallas and San Antonio-based Overland Partners Architects, will add facilities for tennis, softball and baseball, as well as additional fan amenities... A $2.4 million renovation of the gymnasium at the Naval Air Station in Jacksonville, Fla., is now complete. A new HVAC system has been installed in the 70-year-old building to improve air quality and prevent moisture damage to the newly refurbished floors, restrooms and locker areas. The renovated gym offers an increased capacity, new fitness equipment and a training room. Outside the gym, a new Physical Readiness Test Pavilion will provide a sheltered workout space... The new Gaithersburg High School opens this month in Maryland, and along with it, a new set of athletic facilities. A new, larger gymnasium is accompanied by a weight room that offers twice the space as its predecessor. Once construction of the school is complete, the old building will be torn down to make way for parking and new athletic fields... The Veterans Park District celebrated the grand opening of its George A. Leoni Complex in Melrose Park, Ill., last month. With the opening of the 34,000-square-foot facility featuring an indoor soccer field, batting cages, a walking track and two multipurpose rooms, users will be able to engage in athletic and fitness activities year-round.