Editor's Note: AB Senior Editor Paul Steinbach authored this piece in January 2010, but with February 22nd marking the 34th anniversary of the Miracle on Ice and the U.S. men's hockey team facing off against Canada on Friday, the message still rings true.
For nearly 30 years now, the 1980 U.S. Olympic hockey team has been an off-and-on obsession of mine.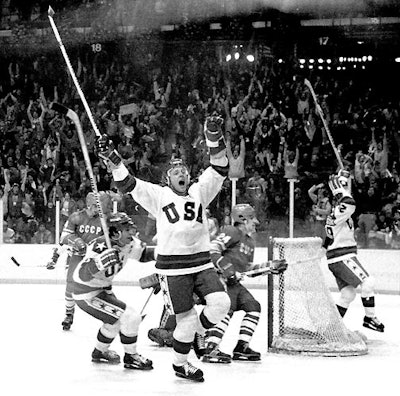 Every Feb. 22, I'm taken back to that Friday night in the dead of winter when my mom and I watched a tape-delayed and condensed hockey game from Lake Placid, N.Y., on ABC. We didn't know the game was tape-delayed or condensed, and just as Al Michaels stated during the pregame, we were among those in the television audience who didn't know a blue line from a clothesline. But we knew we were witnessing something unlike anything we had ever seen. When Team USA defeated the Soviet Union, 4-3, in the medal round's semifinals, this impressionable 13-year-old fell in love with a sport and a historic sports spectacle.
I got the jump on that nostalgia this year, having read a Boston Globe Sunday Magazine article profiling Mike Eruzione, the 1980 team captain who scored the game-winner against the Soviets. Written by Billy Baker (though not the Billy Baker who scored in the waning seconds of the Americans' tournament opener to tie Sweden - a goal many consider as important to the team's golden fate as Eruzione's), it is one of the best pieces on that moment (and, in this case, its aftermath for one man) that I have read, and I think I've read them all.
It rivals E.M. Swift's Sports Illustrated Sportsmen of the Year article from December 1980, which still warrants an annual reread. In his piece, Baker refers to the HBO Sports documentary "Do You Believe in Miracles?" which premiered in February 2001. If you haven't seen it, find it. I borrowed a copy from a former coworker who had played women's hockey at Northeastern and nearly made the Olympic team but who wasn't old enough in 1980 to appreciate what was taking place. I watched her DVD three times before I returned it, and now own a copy complete with the Soviet game as it was broadcast. A video introduction of Eruzione every time he speaks borrows a few of HBO's sound bites, and we again saw the goal scored and number 21 pumping his arms and legs as if running up along the boards, before he spoke at the Facilities of Merit reception during the 2004 Athletic Business Conference.
It was there that I got the chance to chat him up. I told him I started playing ice hockey because of that team. "How many times have you heard that?" I asked the captain. "Only about a million," Eruzione said. I offered to bring him a drink. Vodka, club soda and Diet Coke. Still downing the Russians. Earlier that year, Disney released "Miracle." I own that DVD, too, though I don't watch it. While SI's Swift praised the movie and Kurt Russell's "spot-on" depiction of coach Herb Brooks, I don't think it captures the dirty-slush dinginess of Lake Placid or the country's collective mood. The Olympic Center is too well lit. The ice too white. Jack O'Callahan's hair is all wrong. (I did mention the word "obsession," didn't I?) I told Eruzione that, of the two, I thought the HBO documentary was superior. He agreed.
"I offered to bring him a drink. Vodka, club soda and Diet Coke. Still downing the Russians."
To this day, I'm glad for my brief face time with this hero from my youth. Having heard during a radio interview 10 years ago that Eruzione travels the country reliving his moment - the country's moment - in front of corporate audiences, I lobbied to bring him to our show. I thought the release of "Miracle" might be our last chance, the last time Eruzione and his underdog story would be relevant. After reading Baker's piece, I realize nothing could be further from the truth.