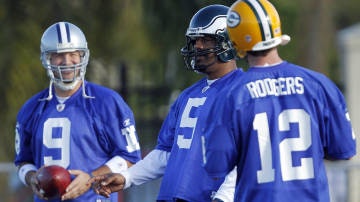 All-Star Games have all outlived their relevance, but the Pro Bowl, which is kicking off any minute now, is by far the dumbest of them all, and made even dumber by its being contested today, one week before the Super Bowl.
If that's possible. It's true that, in its normal slot one week after the Super Bowl, it was a colossal afterthought - and worse, a game that nobody really wanted to play, with the specter of injury leading to many no-shows, both literal and figurative. This year, the game is being played without representatives of the league's two best teams, including the two best quarterbacks. Why bother?
A little history: America's Pastime held its first All-Star Game in 1933. The sport needed the money and it needed to get fans, most of whom didn't have two nickels to rub together, to spend the one nickel they had on a ballgame. The idea made some sense: Gather all the sport's biggest stars on one field, and watch two veritable Dream Teams go at it. Prior to that, the only way fans ever got to see representatives of the two leagues on one field was during the World Series. But also, baseball's mano-a-mano of pitcher vs. hitter is singular among the team sports, and really makes for made-for-TV All-Star Game moments (if only they'd had TV!).
In short, back in 1933, you'd need a hell of a lot of luck to see Carl Hubbell face Babe Ruth. Major League Baseball foresaw the possibilities, and in its second-ever All-Star Game, in 1934, the league got a tremendous stroke of luck: Hubbell, in a second-inning jam, fanned Babe Ruth, Lou Gehrig and Jimmie Foxx to retire the Americans, for good measure striking out Al Simmons and Joe Cronin to lead off the third. That, right there, was the essence of fans' endless arguments about which was more important, pitching or hitting.
Other sports just don't accommodate the would-be dream matchup. The NBA's one-on-one is always between two scorers (Kobe vs. LeBron...lol), which is why that sport's All-Star Games always end up 139-138. Football, both American and World, are the ultimate team sports - statistics, especially defensive statistics, are completely team-oriented. You want to see the best offense against the best defense? You saw it when the New England Patriots fell to the New York Giants in Super Bowl XLII, not when Tom Brady went one-on-one with Justin Tuck.
Added to which, who cares whether the NFC or the AFC wins? In a week we're going to crown the real champion, which for most fans will settle the debate over which conference is stronger. And, did you hear? Peyton Manning and Drew Brees will start.