The New York Mets own Major League Baseball's best home win total in 2010 and its worst per-game home attendance drop from a year ago. The latter is perhaps the least surprising.
The Mets have gone to some lengths to avoid a second-year slump for Citi Field - lowering ticket prices, adding historic imagery to the stadium - but as it is for most new parks these days, the honeymoon was short. As recently as the early 1990s, stadium construction delivered extended attendance gains in places like Baltimore and Cleveland.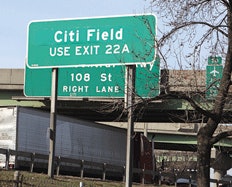 "Stadium fatigue sets in much faster than it did before," Team Marketing Report executive editor Jon Greenberg told the New York Times. "When Camden Yards and Jacobs Field were built, they were a big deal and were a complete change. The novelty has worn off."
Through 22 home dates, Mets attendance is down 6,852 fans per game to an average of 31,892 at Citi Field, which seats 41,800. That translates to an 18 percent drop, second only to the 30 percent decrease endured by the Indians (who have a losing record at home so far in 2010) but still short of the 22 percent decline suffered by the Washington Nationals in 2009, the year following their stadium's debut.
That bit of foreshadowing, coupled with their own 92-loss season, gave Mets executives reason to believe a slump was coming. "With the factors of the economy and team performance last year, there will be an effect," Mets executive vice president for business operations Dave Howard told SportsBusiness Journal in January. "A lot of fans have been taking a wait-and-see attitude."
Conversely, Minnesota Twins fans have been flocking to Target Field during its inaugural season. Bolstered by a 12-6 home record, Minnesota currently sits atop the American League Central Division standings, and its average gain of 14,129 fans per home game leads the Major Leagues.
It will be interesting to see if the Twins, whose transition from the Metrodome to an open-air stadium has been more novel then the typical stadium switch, can hold those numbers next season.