Yesterday's E-News article about so-called "locker boxing" - essentially a locker room fight with boxing gloves - proved to be a popular one. Gowanda (N.Y.) High School's promising varsity and junior varsity lacrosse seasons came to an abrupt end last week after players participated in a locker boxing match as teammates cheered, videotaped the incident and posted footage on YouTube that has been since removed. School superintendent Charles Rinaldi called his decision the most difficult one he's ever had to make as head of the district.
But administrators at other schools might be forced to make similar decisions. Over the past couple of years, locker boxing (also sometimes referred to as "helmet boxing" when it involves the wearing of helmets) has been gaining in popularity among teenage lacrosse and hockey players, and it is often considered a rite of passage for participants. The objective is to land as many hits to the opponent's head as possible until that individual is knocked down or gives up. But a locker room, as a quick YouTube search reveals, is not always the venue.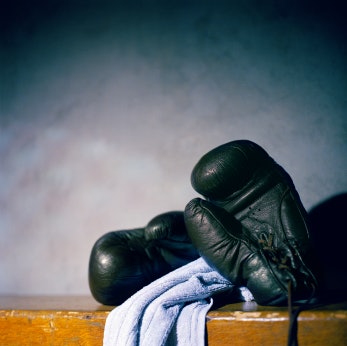 As things turn out, the cancellation of prep lacrosse in Gowanda - where the Panthers have won 12 sectional titles and numerous league titles over the years while regularly drawing several hundred spectators per game - was short-lived. The school board reinstated Gowanda High's lacrosse program last night, allowing the 15 players who were not in the locker room at the time of the incident to finish the season. But 17 of the 22 players who were present received suspensions, and longtime coach Ray Logan was not allowed to return to the team.
Did the Gowanda School Board make the right decision? Has your school had to deal with locker boxing? How did you handle the situation? And how can coaches and athletic administrators prevent these incidents from happening at all?