I like the idea of a cold-weather Super Bowl. Vince Lombardi, whose name graces the championship trophy, would have been all for it, too, according to his son.
On Tuesday, the NFL announced that its championship game will be played in Meadowlands Stadium in 2014 - to be specific, open-air Meadowlands Stadium in East Rutherford, N.J., in February 2014. The average temperature in East Rutherford during February falls somewhere between a high of 40 degrees and a low of 24, according to weather.com.
For those of us in Packerland, that's T-shirt weather (if you happen to be sitting in the shade), but it will be an exposure to the elements yet unseen in Super Bowl history. There have been outdoor games, of course, but only in places like Miami, San Diego and Houston. Every time the game has headed north, it has been played indoors, and the interim three games will take place in facilities with either operable roofs (Cowboys Stadium in Dallas next year, Lucas Oil Stadium in Indianapolis in 2012) or a permanent one (Louisiana Superdome in 2013). By then it might be time to breathe a little fresh air into the event.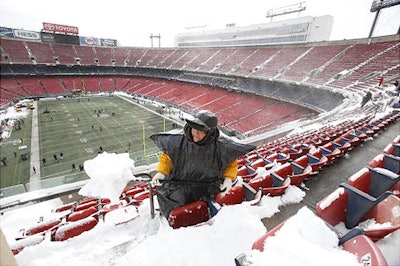 Not everyone agrees. Mike Florio of the Sporting News, for one, has reversed field on the idea. "After further deliberation, the NFL's decision to hold a Super Bowl in a cold-weather climate with a stadium that has no lid makes us wonder whether plenty of people have lost their marbles," Florio wrote. "The Super Bowl is the single greatest day on the American sports calendar. It needs to be protected from circumstances that can make the experience something other than super."
Come to think of it, I recall complaints that the 2007 NFC Championship, played in Green Bay on Jan. 20, 2008 (at 5:30 p.m., no less) was not an ideal environment in which to decide which team would advance to Super Bowl XLII (played in Phoenix, by the way). I probably made them, too. The temperature never cracked zero. I was cold. My team lost in overtime. (I had seen the Packers win the 1996 NFC Championship in single-digit conditions. Back then, we giddily considered this a home-field advantage.)
And while we're talking histrionics, East Rutherford has a history of post-season bowls. College football's Garden State Bowl lasted four Decembers in the Meadowlands from 1978 through '81 before becoming the Kick-Off Classic, played in August from 1983 through 2002. There were more than 15,000 no-shows at the 1979 Garden State Bowl, where the temperature never hit 30.
But 40 degrees should be doable for just about anybody, right? "It's been 39.8 degrees [in Philadelphia] on the average over the last 18 Super Bowls," late Eagles owner Leonard Tose said while lobbying to make Veterans Stadium the host site in 1987, as recalled by Paul Domowitch of the Philadelphia Daily News. "If you can't play football in 39 degrees, then you shouldn't play football."
Ultimately, the 2014 game's proximity to New York, with its media-capital aura and corporate-entertainment opportunities, will help mitigate what is widely viewed as a huge risk for the NFL, according to George Belch, co-founder of San Diego State University's sports business MBA program. "The Super Bowl isn't really just about the game; it's everything leading up to it," Belch says. "The sponsors are using it as a relationship-building opportunity, and New York's a great place to bring clients. They're not going to get too many complaints, unless it's about the weather, which could be a big variable."
Too big a variable to see the NFL entertain a blizzard of bids from other cold-weather cities, Belch adds. "I don't really see them getting into a rotation," he says, "because then there are just too many risks associated with it."