Tigers pitcher Armando Galarraga came within one out of a perfect game Wednesday night in Detroit. More accurately, he came within one correct out call of a perfect game.
First-base umpire Jim Joyce called Jason Donald safe after the Cleveland Indians batter grounded to first-baseman Miguel Cabrera, who threw to Galarraga covering the bag for what should have been the 27th consecutive out for the pitcher and the 21st perfect game pitched in Major League Baseball history.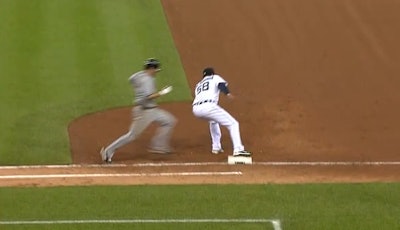 "I just cost that kid a perfect game," said Joyce, who was berated on the field after the game by Detroit manager Jim Leyland and a pack of Tigers, save Galarraga, and booed by the 17,738 fans at Comerica Park. "I don't blame them a bit for anything that was said. I would've said it myself if I had been Galarraga. I would've been the first person in my face, and he never said a word to me."
Bang-bang plays at first are among the toughest calls for an umpire to make, and it's not clear Wednesday's fateful play even made that much noise. Galarraga clearly caught Cabrera's throw in time to beat Donald, but for a split second the ball remained loosely cradled in the pitcher's glove. Said Joyce, "I was convinced he beat the throw, until I saw the replay."
I used to umpire high school and men's amateur baseball, and was good at it, but I got out of it for no other reason than I couldn't take the pressure - at those levels.
For all intents and purposes, Galarraga was perfect Wednesday night. Joyce wasn't. Galarraga, who began the season in the minor leagues, won't be expected to be perfect his next time out. Joyce, who's been a big league ump since 1989, will. Now that's pressure.