I still remember the day my wife and I bought a Wii™ video game console for our two children. At the time, I envisioned playing it more than they would - what with all the sports games available. But the novelty soon wore off, and my valuable time was spent doing other things, like playing and coaching actual sports. Then we bought Wii Fit™ and the pressure-sensitive Wii Balance Board that came bundled with it. Early on, the entire family did virtual workouts, and it was cool. But all four of us still prefer going to our local health club for some real activity.
So I was disappointed (but not surprised) to learn about the Wii Games: Summer 2010 - an all-ages national competition that kicks off Friday in New Jersey's Liberty State Park and will include tournaments at malls and theme parks in 18 states, culminating in a national championship event to be held Sept. 3-5 in Los Angeles. (Incidentally, three of those states were recently pegged in the "F as in Fat: How Obesity Threatens America's Future 2010" report as having childhood obesity rates of 20 percent or higher, and 15 of the 18 states have adult obesity rates greater than 20 percent.)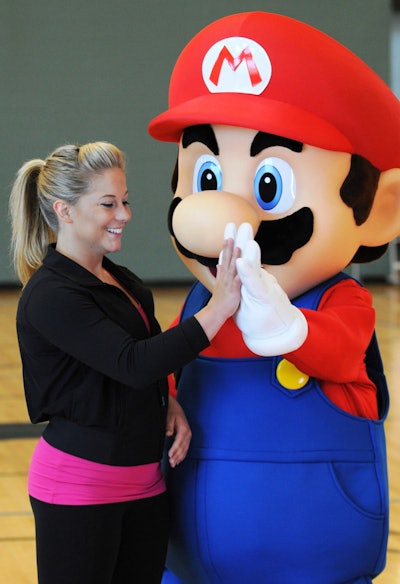 Events will focus on five activities: basketball and bowling in Wii Sports Resort™, the Hula Hoop® challenge from Wii Fit Plus, the platforming adventure of New Super Mario Bros.™ Wii and the high-speed racing of Mario Kart™ Wii. Olympic gold medalist gymnast Shawn Johnson (above) has even signed on as the Games' official "ambassador." Is all this really necessary? Well, yes, according to Cammie Dunaway, Nintendo of America's executive vice president of sales and marketing (naturally). "The Wii Games: Summer 2010 events are a celebration of the fun, active, inclusive spirit of Wii," she says. "I'm sure players will have fun interacting with friends and family members while they train for each event."
"Train"? In that case, my 10-year-old son has been training for weeks. Sidelined from Little League, competitive swimming and a golf clinic this summer with a broken right wrist, he's been playing a lot Wii games. But my little lefthander jumps at the opportunity to go outside in the yard and kick around the soccer ball, play glove-free catch with a baseball (I just toss him grounders) or walk to a nearby bowling alley to bowl a couple games. He even recently began swimming again, wearing a XeroSox® vacuum-sealed cast cover. That cast is supposed to come off a week from today, just in time for his final swim meet of the summer. After that, I'm sure the Wii will get a well-deserved rest.