Last week's announcement that the NFL will hang concussion-awareness posters in all 32 team locker rooms left Athletic Business readers wondering why the posters - prepared in a collaborative effort between the NFL and the Centers for Disease Control - will not be made available to players at younger levels. "The NFL poster is written specifically for professional athletes with direct references to NFL/NFLPA guidelines, so there is not a plan to send that poster to high schools," CDC spokesperson Gail Hayes tells AB exclusively. "However, we based the content for that poster on CDC's materials with NCAA, as well as the 'Heads Up' youth and high school concussion educational materials."
The "Heads Up" concussion-awareness program has been around since 2006 and was recently updated. New materials are posted online, and printed materials should be restocked soon, Hayes says. The CDC also has teamed up with the National Federation of State High School Associations to offer a free online education course called "Concussion in Sports - What You Need to Know." Approximately 12,000 people have taken the course since mid-May, according to Bob Colgate, an assistant director with the NFHS. The NCAA reportedly has a similar video in the works.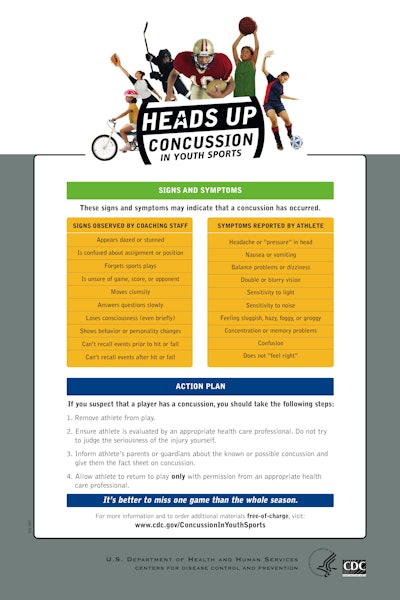 Additionally, a new online course for youth sports coaches is expected to go live on the CDC web site this week, and special posters (above) are available - as are co-branded CDC materials with USA Football, U.S. Lacrosse, USA Hockey, USA Baseball, USA Volleyball, USA Soccer, USA Field Hockey and USA Softball.
The CDC has created a concussions section on its web site, and has a brain-injury awareness page on Facebook.