College athletics administrators at institutions battered by Hurricane Katrina five years ago this Sunday are adjusting to what they call a new normal - a normal that includes elaborate emergency evacuation plans, intimate knowledge of federal emergency management protocol, laptop computers instead of desktops, and standing agreements with schools outside the Gulf Coast for office and residential space.
In an enlightening piece of reporting at NCAA.org, Michelle Brutlag Hosick checks in with the University of New Orleans, Tulane University and the New Orleans-headquartered Sun Belt Conference and finds out that recruiting of both players and personnel remains difficult long after the floodwater receded. "That storm has lingered in this program for years," UNO women's basketball coach Amy Champion said. "There are still some people out there who think we are under water."
"I remember the first job opening I had (after the storm)," Sun Belt Conference commissioner Wright Waters told Brutlag Hosick. "I called a friend in Kentucky and (asked for help). She said, 'Wright, you have a better chance of finding Osama bin Laden than recruiting to New Orleans.' We started looking for people who understand what's going on in New Orleans, who have a connection with something here, as opposed to the traditional athletics search approach."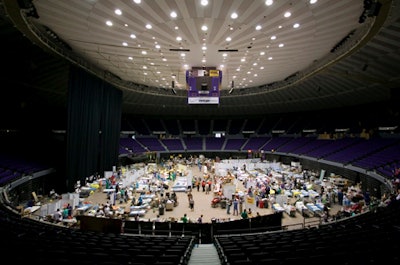 The story also covers Preparedness is something we didn't have at that time," Champion said. "We do now. We learned through this event that we were not prepared, and we learned a lot of tough lessons along the way."