Aviva Stadium, a $410 million, four-level facility that opened in Dublin, Ireland, in May, will host one of college football's longest-running rivalries when Notre Dame and Navy meet there on Sept. 1, 2012. "To see this stadium is to believe it has to be one of the finest venues in the world," Naval Academy director of athletics Chet Gladchuk said in a statement regarding the 50,000-seat facility (designed by Populous). "We fully realize just how important this game is in the U.S. sporting calendar," added Aviva Stadium director Martin Murphy. "It is a terrific boost for Irish tourism, as I have no doubt the teams' fans will travel in great numbers."

Despite Notre Dame's ties to the Irish, Navy will be considered the home team in this 86th gridiron meeting of the two institutions.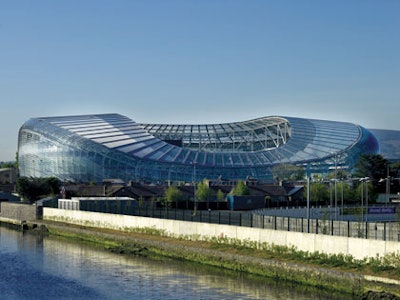 Photo: Chris Cascoigne, courtesy of Populous

The teams also played each other in Dublin in 1996, when Notre Dame won, 54-27. But that didn't stop Chicago Now blogger James Fegan from questioning Notre Dame's recent decision to return to its Irish roots. "One just has to wonder what the university feels it has to gain from this venture, if there are any ethical issues in taking college students across the Atlantic Ocean during the school year, or whether the jet lag alone is going to result in us losing to someone profoundly crappy the next week," he wrote. "It feels like the decision to play in Ireland was motivated by a common drive in university policy: It's cool, and they can."
Log in to view the full article