Green Bay's Lambeau Field more often conjures images of brats than broccoli - thanks in no small part to all those years of John Madden circling the chubby sausages on camera shots filmed at tailgate parties in the parking lot. But the home of the Packers ranks third on the third annual list of veggie burgers and baked potatoes are the highlights at Lambeau, while the prevalence of mock-steak sandwiches, faux-chicken sandwiches, veggie dogs, veggie burritos, meat-free fajitas, fruit cups and grilled vegetable pasta salad helped land these other venues on the list:
1. Lincoln Financial Field (Philadelphia Eagles)2. Oakland-Alameda County Coliseum (Oakland Raiders)3. Lambeau Field (Green Bay Packers)4. Georgia Dome (Atlanta Falcons) 5. (Tie) Arrowhead Stadium (Kansas City Chiefs)5. (Tie) Ford Field (Detroit Lions)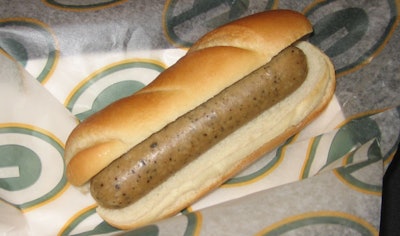 Keeping all types of fans satisfied is the key to concessions success, according to John Sergi, a hospitality and culinary strategist who has overseen food operations at prominent tennis and golf tournaments, as well as at Citi Field, home of the New York Mets. "When you're selling food to enhance the experience of being in your building and to make people happy, per capita spending isn't the measure [of concessions success]," Sergi told Athletic Business last year. "The measure is transactions per guest. When I look at how the concessions programs I'm involved with are performing, I look at participation."
So congrats to these six stadiums; sure beats landing on this list.