With menu items ranging from raw fish to fresh-carved beef, stadium concessions operators are catering to the more refined tastes of the average ticket-holder.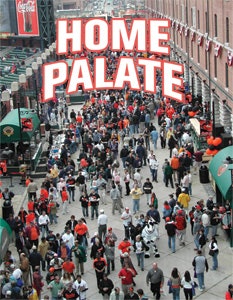 It was an all-star lineup befitting baseball's midsummer classic. As Pittsburgh prepared to host the 2006 All Star Game, concessions workers stuffed PNC Park with perhaps the widest variety of food offerings ever assembled in one sports venue - a murderers' row of menu items that featured lobster rolls from Boston, crab cakes from Baltimore and sopes from Anaheim. (In case you don't know, they're pronounced "soh-peys," a Mexican mix of beef tenderloin, sour cream and salsa served on a corn shell.) Chicken wings, gyros and Polish kielbasas - all local favorites - helped fill out the evening's refreshment roster, along with ubiquitous ballpark fare of hot dogs, nachos, pretzels and peanuts.
If any among the 38,904 fans in attendance left PNC unsatisfied, it was because their National League stars fell victim to a game-winning two-out triple in the ninth - certainly not because they didn't get enough to eat. In fact, fans stepped up to the plate in droves, consuming 24,000 hot dogs, 17,000 trays of nachos, 14,000 pretzels and 4,000 bags of peanuts. And even though the more exotic entrees failed to put up those kinds of numbers (1,500 lobster rolls, 1,200 crab cakes, 1,200 sopes), their mere presence made an impression. "It was pretty cool to come into the stadium and hear people talking about being able to buy crab cakes or a lobster roll or a Philly cheese steak - things the local fans normally don't get when coming to PNC Park," says David Freireich, director of corporate communications for concessionaire Aramark, which summoned its top chefs from all corners of the country to form a culinary dream team in Pittsburgh. "It was kind of representative of the All Star Game experience as a whole, and it was a huge hit."
Once relegated to the lofty atmospheres of corporate suites and club-level seating, the concessions industry's chef culture has landed squarely on the main concourse, where even Joe Six-Pack in Cleveland can wash down his sushi with a cappuccino smoothie - if he's so inclined. Ballpark staples may still rule, but today's smart concessions operators are tapping regional tastes and nationwide nutrition trends with a mix of ethnic flavors, organic ingredients and pledges of trans-fat freedom. "Those alternative offerings may not make you a lot of money, but they will appeal to a very specific segment" of the ticket-buying public, says August Publications editor Kevin Reichert, responsible for the content at industry webzines arenadigest.com, ballparkdigest.com and footballstadiumdigest.com. "Beginning this past year, they've sort of stood on their own in terms of economic return. We're seeing them evolve into a profit center."
According to Chris Bigelow, president of The Bigelow Companies Inc., a Kansas City, Mo.-based concessions consultancy, the evolution began in the late 1980s with a surge in stadium and arena construction. "The old buildings were never vented properly for cooking, so as the new buildings came online, the idea was to move from cold sandwiches and pre-wrapped hot dogs to a higher level of food. With ventilation capabilities, you can have fryers, ovens and grills in the concessions stands themselves."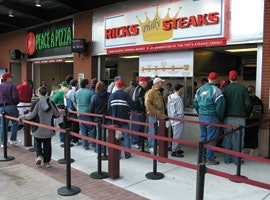 State-of-the-art stands, some even equipped with their own barbecue meat-smokers and gas-fired pizza ovens, have become performance stages, of sorts - their open design allowing customers to see (and smell) food prepared fresh to order. Says Brett Lewis, corporate executive chef for concessionaire Centerplate, "We're focusing on something that we call culinary theater, where we interact with our guests so that they feel like they're part of the decision-making process of what's going into their meal as we prepare it."
That might entail onsite chefs stir-frying entrees in woks or carving turkey or beef sandwiches open-faced on a fresh roll, allowing fans to take the construction of their sandwich from there to a toppings bar. No detail of the dining experience is considered too small. "In the '70s, concessionaires didn't want to use anything that had fresh produce in it," says Bigelow. "Every concessionaire would say, 'We can't add slices of onions and tomatoes to a hamburger, because we're only going to be open for this homestand, and then we'd have to throw everything away before the next homestand.' "
"One of the things that is different from the past is we're looking to do these products in the freshest way possible," says C.T. Nice, Aramark's vice president of food and beverage. "What's in season? Where is it grown? Is it organic? We take into consideration all of the issues that concern today's consumer and try to get as close to the ideal as possible."
Because the average sports fan has developed more sophisticated tastes, the concessions industry has had to invest considerable expertise, not to mention millions of dollars in infrastructure improvements, to meet consumer demand. "Concessions became a big deal, because when teams are charging people a lot more money to see a game, expectations are raised," Amusement Business senior editor Steve Cameron told the Chicago Tribune on the heels of the Cubs' 2005 announcement that they had awarded their general concessions contract to Levy Restaurants, operator of such upscale Chicago dining establishments as Spiaggia and Bistro 110. "Fans don't want the greasy hot dog and a flat beer. It just won't work anymore."
"Customer knowledge has really expanded, and I think Food TV is probably a big reason for that," adds Centerplate's Lewis. "People are educated, and they understand that there are unique things out there. They're always willing to try something new, so being able to show them our capabilities by cooking in front of them and having them participate is a huge step in the right direction."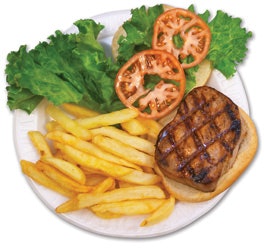 Tuna Makes a Splash in Texas
There's a place in Canton, Texas, where you can get a great grilled ahi tuna steak sandwich garnished with pico de gallo salsa. The place is called the Splash Kingdom Family Waterpark.
Hot dogs and double cheeseburgers are still the park's big concessions sellers - this is cattle country, after all. But according to park owner Johnny Blevins, the inclusion of the $6.95 tuna sandwich on the menu during Splash Kingdom's inaugural 2006 season was a key reason daily average per-patron concessions sales topped the $4.50 mark - a full dollar better than preseason projections. On some days at the 2,000-bather-capacity, 10-acre park, concessions sales approached $6 a head. "Whether we sell a lot of tuna sandwiches or not, it brings our entire menu image up a notch," Blevins says. "It represents something different, something people are not expecting at a little water park. And it makes the $4.95 price on our double cheeseburger look like a giveaway."
Splash Kingdom is proof that premium menu items can serve the same purpose for the recreational concessions operator as they do for the corporate food-and-beverage concessionaires stocking stadiums and arenas. "Even though you won't necessarily sell as much of them, it gives people the perception that you're a very high-quality place," says Mike Holtzman, president of Poway, Calif.-based Profitable Food Facilities, which recommended that such items as a grilled chicken Caesar salad and a veggie burger (both priced at $5.95) be part of the Splash Kingdom menu. "As a result, sales-ticket averages tend to go up."
Holtzman is also quick to point out that Disneyland, which charges higher concessions prices than Splash Kingdom, does roughly $7 per person in concessions sales. "To be able to compare a water park in Canton, Texas, to Disney, I think we're on to something," he says. "Grilled food does require you to jump through some hoops with the health department, and you do need a little bit of talent to handle it. But everywhere we've put this in, it's proven to be extremely effective."
The first step in building a modern concessions menu is properly designing points of sale. Typically, half of the concessions stands in each of today's state-of-the-art facilities are ventilated for cooking, while the other stands can grill hot dogs on rollers or pop popcorn without ventilation.
According to Bigelow, a well-designed sports venue is divided into quadrants, with each offering roughly the same food options in the interest of fan convenience. Adds Nice, "In an ideal situation, fans do not have to go a long way to get the principal offerings they like. If we introduce something, and we find it's successful, we work very hard to figure out a way to get it to as many people who want it as possible." In that sense, portable flat-top kiosks can be used to prepare and sell popular specialty items, such as grilled sausages with sautéed peppers and onions, or to test-market new ones. "That is an opportunity to gauge demand and determine whether or not you need to make that item a permanent fixture in your facility," Nice says.
Whatever form the point of sale takes, openness is a must. Grills located within the concessions stand should be as close to the paying customer as possible, according to Lewis. "You can have it centrally located or you can have it toward the rear, you just want to make sure that the food-prep area is facing the guests and that you don't have your back to them," he says.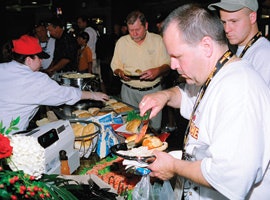 A concessions stand's physical surroundings may also influence menu offerings. Given the fact that holders of tickets in a venue's main seating bowl lack the tables and chairs found in suites and club areas, handheld food items (think potato knish) trump those requiring utensils (think chicken 'n' waffles) in terms of fan-friendliness. "If you're talking about the facility's event level, where the fan has a seat but no table, a knife and fork is probably not going to work, and you have to develop menu items around that," Nice says. "You may not be able to give someone crab and have them break it open and go through all the iterations of eating it, but you can come up with a crab-cake sandwich or crab fries."
If utensil-essential items such as crepes or Asian noodle bowls are offered, it helps if the venue design allows for their consumption outside the seating bowl. "Concourse size is critical, because customers do not just come in, go right to their seat and watch the event. They want to get up, they want to walk around and they want to try messy foods," Bigelow says. "As we see more complete meal-type menus that feature ethnic food and barbecue, it can be messy, and from the design side we always try to find places to put tables and chairs, or at least stand-up tables, because people will buy more food if there is a comfortable place where they can eat it."
Convenience of proximity notwithstanding, many stadiums and arenas now feature food service destination points - typically a thoroughfare of specialty stands offering the branded items of local purveyors through partnerships with the venue tenant or its concessionaire. Concessionaires have even trademarked their own signature items. Centerplate's Tak a Bau (pronounced "take a bow"), for example, is an Asian pocket sandwich containing one of three meat choices, as well as carrots, bean sprouts and radish sprouts, served two to a boat with a side of Asian chicken salad and a beverage for between $7.50 and $8.50, Lewis says.
While it costs the concessions operator more to offer premium items, potential returns can prove tempting. It all comes down to appropriate pricing, according to Bigelow. "Let's say a hot dog sells for $3.50, and after sales taxes and 25 percent product cost, there is $2.55 left. By comparison, that freshly carved roast beef sandwich sells for $9.50, so after sales tax and a 33 percent product cost, the concessionaire has $5.87 left," Bigelow says. "Labor and overhead would be the same, but commissions to the venue are usually based on sales. So if you look at profit margin by percentage, the hot dog might be better, but if you look at actual dollars I'm going to take to the bank, I'd rather be selling the $9.50 roast beef sandwich."
Upgrading intergenerational ballpark menu favorites from blasé to gourmet can positively influence profits, too. Witness the move from reheated frozen pizza boxed by the slice to fresh-baked whole pies featuring hand-tossed crusts. Says Lewis, "Fans can still buy the $4 hot dog, but for $6.50 they get to actually participate by picking from four or five different hot toppings and nine or 10 cold toppings and really build their hot dog to order."
Moreover, according to Lewis, the time it takes the average patron to complete a concessions stand transaction varies little between a freshly prepared Tak a Bau platter and a hot dog pulled from a warming drawer and presented in a "mystery bag" - falling somewhere within the 30-to-45-second range. "We're designing these items to be very time-efficient and easy to handle," he says. "So from a timing standpoint, they're all very similar. But from a freshness, appearance and taste standpoint, there's a big difference."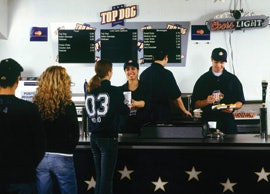 To be sure, menu decisions are never taken lightly, and there have been hits and misses. Fish and chips caught on in Seattle, but not in Jacksonville. Fish tacos work in San Diego, but elsewhere not so well. This unpredictability exists in spite of concessionaires' efforts to consult with teams, solicit customer feedback and share best-practices advice among locations. Says Aramark's Nice, "We really try to ferret out what's going to be most popular based on consumer trends, and we then try to develop a delivery system that can still meet our goals of moving the lines and maintaining a quality product."
"Contrary to what we all thought - that the only thing the customer is interested in is getting it fast - the fact is they're willing to wait if it's going to be a much better product," says Bigelow, adding that the same room for tolerance applies to pricing. "Today's customer says, 'For a brand name that I recognize or for a Kosher hot dog or sushi, I don't care what you charge me. If it's really good, I'm going to remember that it was a great product. I'm not even going to remember what it cost. But if I have to pay $4 or $5 for a really mediocre hot dog, believe me, I'm going to remember that, and I'm not going to buy it anymore.' So the lesson that concessionaires have learned is to find a price point that allows them to serve the best-quality product. That's what the customer really wants."
For proof that concessions traditionalists still have a place at the proverbial table, look no further than Dodger Stadium in Los Angeles, where an all-you-can-eat seating section debuts this month. Tickets to the 3,000-seat right field pavilion sell for $35 in advance and $40 on game day - prices that also cover as steady a diet of hot dogs, nachos, peanuts, popcorn and soft drinks as desired during a 31¼2-hour window of availability.
Nice, a Culinary Institute of America-educated chef, confesses that enjoying a hot dog at the ballpark is a temptation to which even he succumbs on occasion. "I grew up as a kid going to ballgames and eating hot dogs," he says. "It's probably the only place I still eat a hot dog, but it's a tradition." Even so, today's food-savvy consumers, not to mention season-ticket holders, demand options that transcend concessions-industry standards. That's why sushi will be featured for the first time this season at one of baseball's most tradition-rich venues - Boston's 95-year-old Fenway Park. "If a stadium draws three million people in a season, you know it's quite a cross-section of folks. So it's our responsibility to make sure that we put as much variety out there as possible," Nice says. "Even though the newer items may never unseat the others as top sellers, they allow fans to walk away from the experience and say, 'Wasn't that neat? They had something for me, too.' "