Every health club has exercisers who grunt - often listed among the "things you should not do at the gym" - and one grunter recently sent a note to Chicago Tribune blogger Julie Deardorff, sharing his frustration about being asked by the manager of the facility where he works out to turn down the noise. According to Deardorff, David Tam forcefully grunts, growls or even yells "Boom!" - sounds that echo throughout the small club and, apparently, annoy others. Here is part of what Tam wrote:
"I train hard. I know what I'm doing. I would like to think it shows. I'm also 37. I feel as if I'm cheating chronological age by about a decade. I played sports in high school and I still love martial arts. I love working out and training - it's honestly fun for me. When I get in there with the same group of guys on a regular basis - we have a ball.
"I understand that some people just don't get it; they think I'm showing off. Maybe they are intimidated. You don't get to bench press 400 by just showing up to the gym and magical osmosis when you are there. You put in the work and that's what I do. I'm inspiring guys at the gym to do the same."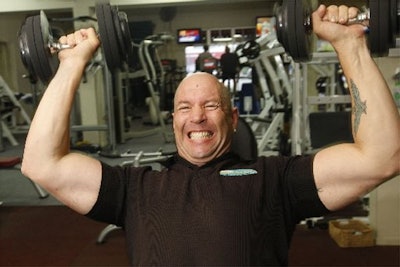 Vik Khanna, executive director of Health and Wellness at the Sisters of Mercy Health System in St. Louis, told Deardorff that screamers and grunters are prevalent in the weight lifting and bodybuilding culture, making noises as "a psychological/emotional boost and also to draw attention to themselves," he said. "Many lifters make a powerful exhalation during the lifting portion of the movement, so it is the perfect timing for vocalizing something." The problem, he adds, is that "it's often very disruptive to people around them and can be one of the things that intimidates others at the gym or even dissuades some people from joining ... a gym."
Still, Jeffrey Stout, vice president of the National Strength and Conditioning Association, claims that he doesn't have a problem with grunting. After all, grunters tend to hold their breath, and holding your breath or clenching your jaw has been shown to enhance strength, he says.
Deardorff reports that a fed-up Tam canceled his membership at the facility with the complaining manager last week and has found a new place to work out.
What are the grunting rules at your fitness center? And how do you enforce them?