Years in the making, a $300 million deal between ESPN, the University of Texas and IMG College, the Longhorns' multimedia rights holder, is now in place for the launch this fall of the Longhorn Network.
ESPN will own the network, which will broadcast around-the-clock coverage of UT events and related content over the next 20 years at a cost to ESPN of $15 million per year. Combined with the $10 million per year that UT currently receives from IMG, the university will now bank roughly $25 million in annual multimedia rights revenue. The Longhorns' operating budget this year alone is $137 million, according to Sports Business Journal. The school sponsors 20 varsity sports programs serving 525 men and women student-athletes.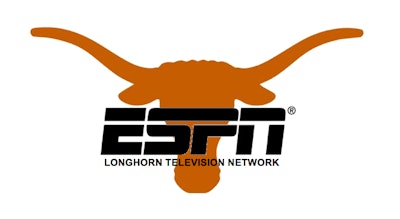 The Longhorn Network will broadcast some 200 athletic events each year, including one exclusive football game and rebroadcasts of games covered by other networks. Likewise, the UT men's and women's basketball programs will see exclusive game broadcasts plus encore game presentations, and Olympic sports will enjoy unprecedented exposure. Studio shows, documentaries and coverage of peripheral events such as pep rallies will round out the programming, as will academic, arts and cultural content and high school coverage. The deal also includes a companion broadband presence to cover events occurring simultaneously.
"This network will provide unmatched exposure for our sports programs and campus academic community," stated DeLoss Dodds, UT men's athletic director, during yesterday's announcement. "ESPN is the global sports leader, and having this relationship on our campus will be special for all associated with the university."