On Thursday afternoon, Life Fitness co-founder Augie Nieto - who was diagnosed with amyotrophic lateral sclerosis in 2005 and who has since become an aggressive leading advocate for research to find a cure for the debilitating disease - posted the following tweets:

OMG Chris just announced to us @LifeFitness is unveiling the Augies Quest line of bikes and we will receive a percent of sales!!

AND..... @LifeFitness is naming their new showroom after me! WOW! what an honor.

"Chris" is Life Fitness president Chris Clawson; the "line of bikes" is the Limited Edition Augie's Quest Lifecycle; and the "we" is MDA's Augie's Quest, the ALS cure-driven research initiative begun by Nieto - now chairman of Octane Fitness. During the past five years, Augie's Quest has funded several successful ALS research projects that have accelerated the development of therapeutics.

Foremost among them is the partnership with the ALS Therapy Development Institute (ALS TDI). Thanks to millions of dollars donated by public support of Augie's Quest (and matching funds from ALS TDI), scientists at ALS TDI have screened more than 100 molecules to see if they affect the progression of ALS. Through its rigorously controlled program, ALS TDI has identified a molecule that significantly increases survival, delays progression and improves body weight in the ALS animal model. Other molecules are still under investigation.

The fifth annual B*A*S*H for MDA's Augie's Quest, held in March at the 29th International Health Racquet and Sportsclub Association Convention & Trade Show in San Diego, raised more than $822,000 toward research.

More details about the sharp-looking line of Augie's Quest Lifecycles, which boast the Augie's Quest logo and a motivational quote from Nieto ("From Success to Significance"), will be available as we get them.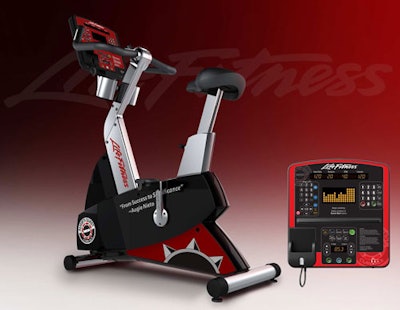 Rendering courtesy of Life Fitness

Log in to view the full article