"The Wigwam" - hailed as the second largest high school gymnasium in the United States, with a seating capacity of 8,996 - will close soon. Owned and operated by the Anderson (Ind.) Community School Corp. and used by Anderson High School, the free-standing facility opened in 1961 and has become too expensive to operate. This week, the school board voted, 6-1, to close the facility by the end of the academic year and put it on the auction block, a move that is expected to save the district $700,000 a year.
"It's a sign of Anderson's times," board member Keith Millikan, told The Indianapolis Star. "The school system is in dire straits. We have no assessed valuation."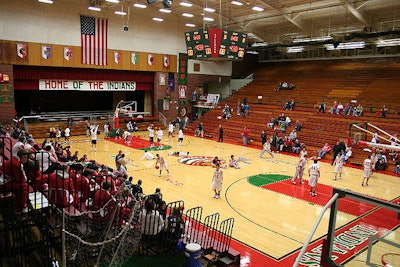 Long-time Anderson coach Ron Hecklinski told an Indianapolis radio station Wednesday he's ready to fight to save "The Wigwam," which got its name from an Indian tribe that settled in the area. "I'm chaining myself to the front doors," he said, perhaps only half-jokingly.
When highlighting "great places to watch high school hoops" in 2004, USA Today wrote of The Wigwam that "the Indian theme may be offensive to some, but the presentation is heartfelt and done with respect."
The largest high school gym in the country, incidentally, also is located in Indiana: The Fieldhouse in nearby New Castle.