I've been sitting here in front of my computer trying to think of a softer, more writerly way into the subject of violence in professional hockey. But now that drops of blood are beginning to appear on my forehead, I might as well just come out and ask the direct question: What the hell is wrong with those idiots at the NHL?
There's something about the culture of this league - not the sport, the league - that is simply out of touch. Question a player, coach or league official about the prevalence of violent hits away from the puck, and you're likely to hear a dismissal of no-check, European-style hockey - even though your question wasn't about checking at all. Decry the fistfights, the roster spots taken up with "enforcers," and they'll call you a wuss and tell you that fights are an essential aspect of the sport. Lately, they've told their more-concerned fans to kiss off. Washington Capitals head coach Bruce Boudreau had this to say to protesters outside Montreal's Bell Centre: "If you don't like it, don't come to the games."
As a story from Reuters that has started spiraling around the Web points out, it looks like they could stop coming. A recent poll of 1,021 Canadians found that a quarter said they will watch less hockey because of the NHL's failure to impose stiff penalties on dangerous plays. And the sponsors, too, are talking about fleeing. Air Canada last week threatened a pullout if the league doesn't curb the violence, after which commissioner Gary Bettman astonishingly suggested that his league's teams "make other arrangements if they don't think Air Canada is giving them the appropriate level of service."
It's ironic that it took Boston Bruins defenceman Zdeno Chara's hit on Max Pacioretty - a late but legal check behind the puck that unfortunately threw Pacioretty into an unpadded glass stanchion - to get fans to see the light. That one might not even have been intentional. What's amazing is that the league's goombahs are actually defending players smashing each other in the head, with or without their helmets. Can you believe the amount of debate over the past year that was necessary to get the NHL to outlaw hits to just part of the head, and not the entire head?
Fans made nauseous by hits like Chara's don't want games played at slow speed. They don't want checking barred. Players don't, either. But when you see a player skate up to another away from the puck and level him with a 20-km/h elbow to the head, plus the ensuing fistfight on the ice with the referees standing around watching, you have to wonder why these guys are defending this particular battleground.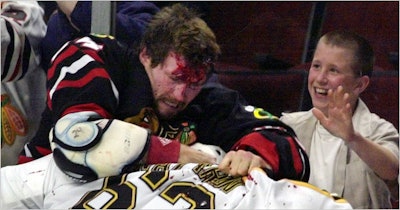 The New York Times' recent story about the death of longtime NHL enforcer Bob Probert was eye-opening for a number of reasons, beginning with the photo by Fred Jewell (Associated Press). Probert, bleeding from a cut on his forehead, continues pounding away at his opponent while a delighted young fan applauds. As a parent of an 11-year-old and an 8-year-old, I can tell you that sometimes kids need to be told about what's appropriate and what isn't. Who's sitting Gary Bettman down and explaining to him what all adults by this time ought to know?