Call it a mesh pit. As many as 10,000 fans are expected to crowd two city blocks outside AmericanAirlines Arena in Miami tonight to watch Game 5 of the NBA Eastern Conference Finals on a 3,400-square-foot mesh LED display.
A2aMEDIA's MiamiMediaMesh measures 80 feet wide by 42 feet high, allowing fans to watch en masse as events unfold inside the United Center in Chicago, where the visiting Heat will try to finish off the Bulls and advance to the NBA Finals. It's the first sports installation of the technology in the United States and the largest such display in the Southeast. "It's affixed to the front of the building where there are windows, and because it's a mesh, you can be inside the building looking out and it does not obstruct your view," says Heat spokesperson Lorrie-Ann Diaz. "It's really cool."
So cool is the technology that it can even dress up a bus station. A 6,000-square-foot installation will wrap the Port Authority Bus Terminal in New York beginning next month.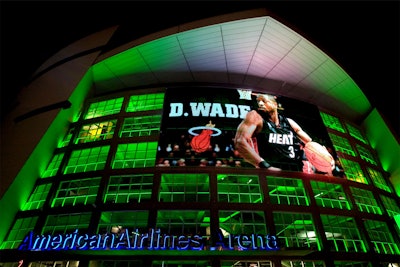 Photo courtesy of the Miami Heat
Miami's display faces a plaza at the front of AA Arena, and the city has already cordoned off surrounding streets in preparation for the Maimi Heat White Hot Road Rally, which officially begins at 7 p.m. eastern. Fans are encouraged to bring their own seating, but not their own coolers. Nineteen South Florida food trucks will feed the masses, and Heat talent - from the team's in-arena public address announcer to the Heat dancers - will keep them entertained. Pregame and halftime concerts also are scheduled. The free event is sponsored by T-Mobile SK4G, and T-Mobile Sidekick 4G users who show their phones at participating stores will receive passes to a watch party VIP area.
For years, watch parties have created a communal experience for fans unable to travel with their teams to important (typically postseason) games. The Heat drew more than 7,000 to a 2006 NBA Finals gathering inside AA Arena (MiamiMediaMesh wouldn't debut until May 2009). That total could easily be eclipsed in the balmy outdoors, according to Diaz. "There's so much excitement in the air," she says. "It's going to be really more like a block party."