One person has died and at least 16 others are injured after part of the roof at De Grolsch Veste Stadium in the Dutch city of Enschede collapsed today. Early reports indicate that the incident occurred at 12:03 p.m. local time, and construction crews were trapped beneath the wreckage at the south end of the stadium. Everyone involved has since been accounted for, according to guardian.co.uk, but a local government spokesperson was unable to confirm the exact nature of the injuries.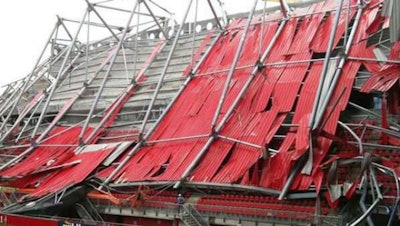 The stadium is home to FC Twente, a soccer club founded in 1965 that has grown in recent seasons and was expanding seating capacity at the stadium.
FC Twente posted a statement on its official website: "During the renovation work at the Grolsch Veste, the roof of the building collapsed. Our thoughts are with everyone involved."
The club's friendly match against Zeeuws Elftal on Saturday has been canceled.