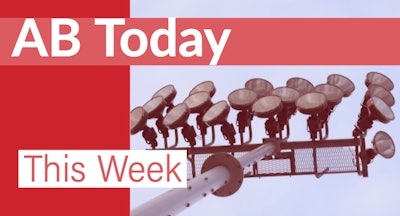 Happy Friday! We made it to the end of September.
Here's a look at all of the stories that caught the attention of AB's editorial team this week: 
First off, an apology.
Our website was undergoing updates this week that created some unexpected technical issues. These issues led us to delay, and ultimately cancel delivery of Wednesday's issue of AB Today. We've been working closely with our web developers to make sure that we're back on track, but we may experience some outages on the site over the weekend, as well. Thanks for being patient with us, and sorry for missing you on Wednesday! 
Now, to the news highlights…
We're continuing to unveil our 2017 Facilities of Merit award winners. Check out these cool 'glideshow' presentations on each of this week's honorees:
Meadowvale Community Centre and Library
University of British Columbia Aquatic Centre
Conestoga College Student Recreation Centre
We have one more facility to announce on Monday, so stay tuned to AB Today.
Elsewhere on the Internet…
The Guardian: 'It's like walking through fire' – the rise of competitive fitness
Sports Illustrated: The NCAA's Rules Gave Rise to a Generation of Pimps. Here's How It Can Clean Them Up
CNN: Researchers identify CTE biomarker that may lead to diagnosis while alive
Finally, submissions for the 2018 Aquatic Design Portfolio are now open! Learn more about the program here, and if you've got an outstanding aquatic facility that we should feature, submit it via our online form here. 
Did we miss anything this week? Email me with news tips and story ideas: jason@athleticbusiness.com