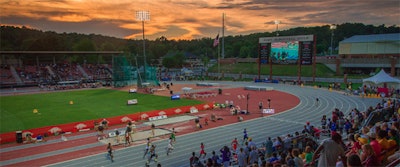 It's not uncommon for the history of decades-old stadiums to include a renovation that removed their running track in the interest of increased seating and better sightlines for the venue's primary purpose — football. The result has been an uptick in the design of self-contained track-and-field facilities. When football (and/or soccer) is out of the picture, a track's interior is free to host field events in a manner both operationally efficient and optimal for athlete performance.
And nothing in a track and field facility influences performance more than the surfacing underfoot. Choosing a system that best fits the facility owner's needs and athletes' abilities is a decision that can't be rushed.
What is state of the art?
Most modern tracks are built in three layers: a paved asphalt substrate, a rubber performance layer and a textured rubber top layer. Ideally, laser-leveling the asphalt to within a 3-millimeter tolerance is the first step toward making a consistent running surface across the entire oval. The middle layer can be poured on site or manufactured in advance and delivered to the site — the latter scenario ensures the greatest consistency in terms of thickness.
The top layer is applied on site in one of three ways: sprayed as a mixture of polyurethane and rubber granules; sprayed as polyurethane only, with a broadcast of rubber granules embedded during a second step (a process known as "flood and chip"); or as a factory-manufactured rubber roll that is vulcanized to the performance layer and delivered to the site as one. In all, the performance and top layers may comprise a thickness of roughly 13 or 14 millimeters, or slightly more than a half-inch.
Not only are manufacturers tweaking those measurements based on desired performance levels for individual clients and installations, they continue to invest in the research and development of entire systems. Mondo, whose tracks have produced 265 world record times (as of this writing), found that incorporating a honeycomb structure within its performance layer returned more energy to runners than the company's previous waffle pattern, and this translates into increased speed, according to Michael Tovar, director of Mondo's track division.
But not all tracks are created equal, and that's by design. The neighborhood high school is not hosting the next Olympics, and each track should be specified to best suit its use. "I could tell my clients, 'I will make more money if you go with a premium surface,' but most often these are athletes who are training hours per day, so safety is a concern, too," Tovar says. "We want to make sure that we're bringing to market what clients need. When the athletes are going to be there every day, they need to like what they run on. They need to be safe."
The running surface itself is textured for both safety and performance. And because today's tracks are nonporous, the entire oval is pitched slightly for drainage (at no more than a 1 percent slope) toward an infield perimeter gutter system.
Selection and care
Manufacturers might offer several variations on this layered theme, with formulations tweaked based on the level of competition. Tracks can be certified by the International Association of Athletics Federations (IAAF) in two ways — at the point of manufacture and through a process of on-site testing — or a combination thereof. The type of track used during Olympic or World Championship competition is out of the budget reach of most institutions, which are better served by tracks built to strike a balance between safe training and competition performance.
"A running track needs to perform and last and do well for the owner, and the athletes need to be able to compete according to who they are," says John Aten, a vice president at surfacing manufacturer Regupol America. "Not every high school needs to have an IAAF-approved running track, but the owner is making an investment in the surfacing system, and they want it to be worry-free."
Most tracks are expected to last 10 years — longer if care is taken to distribute wear and maintain a clean surface. Steps such as occasionally moving starting blocks and dictating lane use during training (odd lanes on odd days, for example) will lengthen the lifespan of a track's high-wear areas. "If you let everyone run on the inside lane, guess which lane is going to wear first?" Aten says. "A lot of it is commonsense practice. Even though they're made from rubber and are durable, the surfaces won't last forever. They will wear. The rubber tires on your car will wear, and if you don't rotate them, you'll wear them out faster."
Aesthetics is another consideration during surface selection. A range of colors can be specified for both track and field surfacing, but terra cotta remains the popular choice. Specifying a custom color — or colors, in the case of alternating lanes — will add cost to any project.
Maintenance and repair
In the event that a certain area of a track becomes too worn, it can be resurfaced, often with excess material stored on site at the time of initial installation. Field event surfacing is likewise subjected to heavy wear in certain areas (for example, the foul line of the javelin approach), and at a relatively higher rate of degradation, requiring more frequent replacement. Manufacturers' recommendations should always be adhered to in terms of which type of spikes are appropriate for the specified surface.
Manufacturers' recommendations should also be followed when cleaning track and field surfaces. This might entail power washing with pure water twice a year or every few years, depending on the surface provider, to remove accumulated dirt from the textured rubber. Larger debris can be addressed with a leaf blower. Chemicals should be avoided, but a mild detergent with a neutral pH may be permissible. Lane lines will likely need to be repainted at least once during any track's lifespan.
Meanwhile, some performance layers are designed to survive the top layer's lifecycle, with a new running surface applied to the old one, adding millimeters of thickness in the process. "We did a project at a university in Pennsylvania that is now 27 years old, and the original base pad installed in 1990 is still there," Aten says. "We came in and rejuvenated the top surface after 23 years of service."
Infield considerations
When field events are held within a track's infield, the same surfacing materials are often used on such areas as the high, long and triple jump approaches, the javelin and pole vault runways, and the steeplechase course. (One notable exception is the shot put pad, which is typically concrete.)
Between those areas, facilities may choose natural grass or synthetic turf. Less common is the track infield that is covered entirely with the same surfacing as is used on the track oval — a decision based largely on aesthetics, according to Tovar. "Most of the time, the infields are natural grass or they go with a synthetic grass, but if you build synthetic grass in the infield, then you cannot have your throwing events there," he says. "Your javelin, your shot put — you have to find an area close to the track where you have your throwing events."
Just as synthetic turf isn't designed to sustain the blunt forces of certain field events, a track stadium's rubber surfaces are susceptible to damage from the heavy loads of vehicles and equipment carts. "If you drive over the system, you need to drive over it in a straight line. You don't want to make sharp turns that could cause any type of sheer or damage to the surface," says Aten, who recommends placing a temporary layer of rubber over the surface to accommodate such wheel traffic.
The speed at which track and field surfacing technology has progressed is evidenced by the fact that the Mondo track installed for the 2012 Olympics in London was replaced for the IAAF World Championships held there last month. "I'm telling you, I go to that facility often and it was perfectly fine. They just wanted to have the latest technology," says Tovar, who says the new surface in London is the type of track that debuted at the 2016 Rio Games. "It's funny, because in this sport, the difference might be milliseconds, but we never stop trying," he adds. "Our goal is to always give the best for the athletes."