Now, more than ever, small business owners are looking for long-term solutions to create clean environments their customers can enter comfortably and confidently.
Less time on cleaning means more time for your business.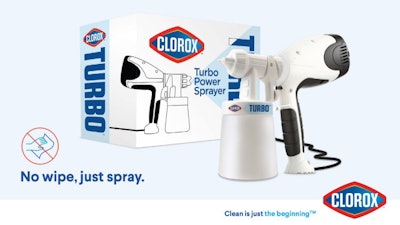 The new Clorox® Turbo™ Power Sprayer and Disinfectant Cleaner get the job done right. The Power Sprayer provides users with an effective and efficient alternative to manual disinfecting for any size job, big or small, saving users time and resources. When used as directed with our Disinfectant Cleaner, all you have to do is spray – there is no wiping required.
It's perfect for a variety of businesses such as salons, gyms, restaurants and more.
Clorox® Turbo™ Disinfectant Cleaner
The Clorox ® Turbo™ Disinfectant Cleaner kills 99.9% of viruses and bacteria including but not limited to cold and flu viruses, MRSA (methicillin-resistant Staphylococcus aureus), Staph, Strep, Salmonella and E. Coli, and SARSCoV-2, the virus that causes COVID-19.
The Clorox ® Turbo™ Disinfectant Cleaner is bleach-free and prevents the growth of odor-causing bacteria on surfaces for up to 24 hours.