The Wellness Company Announces National Winner of Let's Move for a Better World National Campaign and Donates Equipment to Local School
Source: Technogym

New York, N.Y. — May 14, 2014 — Technogym, the world's leading supplier of products, services and solutions in Wellness and Fitness, today announced the winner of their Let's Move for a Better World global challenge that raises awareness about childhood obesity and promotes wellness in schools. Technogym named Key Health Institute in Edmond, Oklahoma the Most Active Fitness Center in the United States by collecting the most "MOVEs" and awarded their school of choice, Taft Middle School, an installation of Technogym's Easy Line equipment.

'The Let's Move for a Better World Campaign is the result of Technogym's thirty-year long commitment to improving Wellness around the world. The campaign is helping to build a more sustainable society and educational platform for the younger generation on the importance of health and wellness," said Nerio Alessandri, President and Founder of Technogym.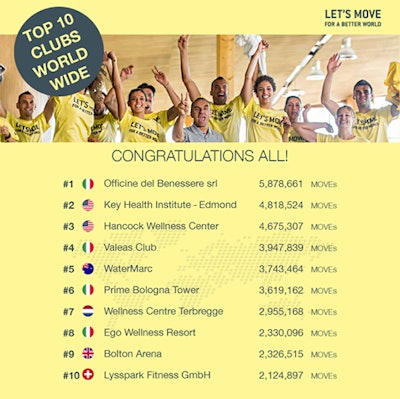 Key Health Institute increased engagement with members by implementing several activities during the competition, including 24 hour workout days, involving local businesses through designated events, handing out promotional giveaways and more. As a result, the fitness facility was able to reach current members as well as non-members in the community, eventually leading to 700 upgraded memberships.

"This has been the best 'member engagement' program I have experienced in my 39 years in the industry. We started the month [April] with 125 of our members as users in the system. By the end of the competition we had well over 800. We charge a higher fee for our Technogym Center (club within a club) and as a result of our conversion, we should realize over $125,000 in additional dues revenue this year," said Mike Dupuis, Chief Operating Officer of Key Health Institute.

With over 20 fitness centers participating throughout the country over a four-week period, Key Health Institute accumulated a total of 4,818,524 MOVEs, Technogym's movement unit of measure on Technogym equipment, to win this national title. Technogym's innovative cloud-computing platform, mywellness, made it possible for participants to log their overall MOVEs throughout the month. Internationally, Technogym had over 175 participating fitness centers in 10 countries that generated over 100 million MOVEs.

About Technogym
Founded in 1983, Technogym is the world's leading international supplier of products, services, and solutions in the Wellness and Fitness industry. Technogym provides a complete range of cardio, strength and movement equipment alongside networking solution and programs. With over 2,200 employees and 14 branches globally, Technogym is present in over 100 countries. More than 65,000 Wellness centers in the world are equipped with Technogym and 35 million users train every day on Technogym. Technogym was the official supplier for the last five editions of the Olympic Games: Sydney 2000, Athens 2004, Turin 2006, Beijing 2008, and London 2012. For more information on Technogym, visit www.technogym.com.