Source: Scranton Products
Surrounded by scenic valleys and majestic mountain ranges, the City of Provo, Utah, has rapidly grown from a resort town with nearby ski slopes to one of the country's fastest growing cities filled with opportunities for entrepreneurs and retirees alike. In recent years, the city even earned accolades as a cultural hub for enticing new careers and one of the top American places to raise a family.
With such a wide demographic to please, Provo City embraced the next phase of its transformation with the design-and-build of a new 160,000 sq. ft. recreation facility designed to accommodate the area's elderly population as well as provide an unsurpassed recreational experience to patrons of every age. This included replacing the outdated senior, community and recreation centers with a combined complex filled with improved indoors pools, children's play areas, exercise equipment and classrooms. To cater to members' comfort, special attention was paid to the lockers rooms and restroom facilities.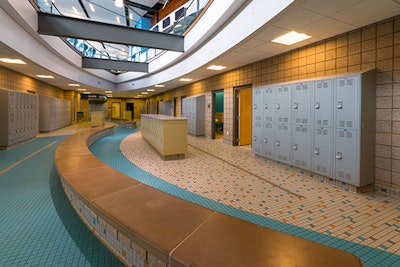 The impressive, state-of-the-art Provo City Recreation Center officially opened in May 2013. Designed at a cost of $39 million with 3,000 to 4,000 visitors a day, the center is filled with the latest amenities including an outdoor skate park, party rooms, four separate basketball courts, six racquetball courts, youth sports programs, fitness classes, a climbing wall and an indoor aquatic center complete with an aerobic pool, children's splash pool, lap pools, slides, a lazy river and even rock wall jumping to simulate cliff-diving.
"We wanted to present an elite recreational experience to every child, adult and senior citizen that enters our facility,' says Scott Henderson, the Provo Parks & Recreation Division Director. "Quality and innovation were a priority. Everything is designed to last in an environment that we expect to be extremely active with hundreds of thousands of guests and members each year."
Privacy and convenience were also mandates when the recreation center included 18 individual changing rooms into its design, along with more than 200 lockers. "All the materials used throughout the facility were chosen to not only complement the bright look and feel of the facility, but also deliver a level of durability that would withstand the rigors of thousands of users every day in a damp, humid environment that also invites corrosion," explains Henderson.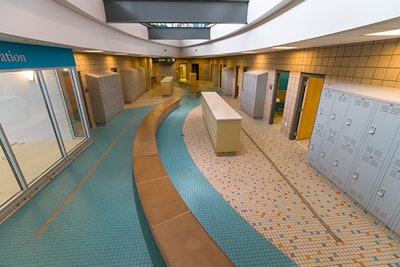 To help meet these needs, the center's designers turned to Scranton Products, a leading provider of premium plastic partitions and lockers, and specified the company's Tufftec® Lockers in Desert Beige and Grey and Hiny Hiders® bathroom and changing room partitions in Grey. Designed to endure the wear and tear of athletic, healthcare and recreational environments, Tufftec lockers made of HDPE material withstand the harshest daily use, while remaining virtually maintenance free. The lockers are also impact, dent and graffiti resistant as well as impervious to moisture.
According to Henderson, Hiny Hiders was the perfect choice for bathroom and changing stall partitions because they are so easy to clean and naturally resistant to bacteria. Unlike metal partitions which are subject to rust, they also offer superior resistance to dents, scratches, graffiti, corrosion, mildew and moisture.
"We tested numerous alternatives and the Tufftec Lockers and Hiny Hiders partitions were the only ones that combined the high-end look and finish with the high level of durability that was an integral part of this project," adds Henderson. "Each are peak performers that really don't need much maintenance. Our guests use them every day without any problems. That's high praise for a facility with constant, non-stop daily traffic."
About Scranton Products
For more than 25 years our premium brands have led the plastic partitions market setting new benchmarks for the industry in quality and delivery. In fact, Scranton Products is the only manufacturer of plastic partitions that ships in as little as five days. Our well-known brands, including Hiny Hiders®, Resistall™, Tufftec® and Duralife®, feature the most durable, low maintenance and best looking partitions, lockers and industrial sheet products in the industry. They won't dent, rust or need painting, and because they have color throughout, delamination is not a factor. For more information, visit www.scrantonproducts.com