Source: The Atlantic Club
MANASQUAN, NJ, October 1, 2014 – Patricia Laus, founder and CEO of The Atlantic Club, the Jersey Shore's premier health and fitness club, joined Peter Cancro, founder and CEO of Jersey Mike's Subs, to sign the National Coalition for Promoting Physical Activity (NCPPA) CEO Pledge. The pledge is part of a new national initiative that urges every CEO in the country to recognize physical activity as an important contributor to both employee health and financial performance. The ceremonial signing took place at The Atlantic Club's Manasquan location during a luncheon event attended by local human resource professionals where Tom Richards, Vice President of Public Policy for the International Health and Racquet Sports Association and a member of the Board of The National Coalition for Promoting Physical Activity presented health and wellness programs that are adoptable by companies both large and small.
"I am excited to sign the CEO Pledge on behalf of The Atlantic Club," said Laus. "It goes hand in hand with our corporate mission to expand wellness and extend life for people of all ages, and I believe it is important to support and promote this mission with our own employees."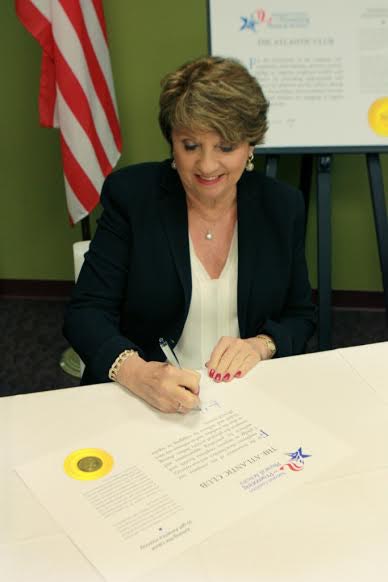 The pledge states:
"For the betterment of my company, our employees, their families and our country, I pledge to improve employee health and wellness by providing opportunities and resources for physical activity before, during or after the workday and enhance my own health and wellness by engaging in regular physical activity."
During the luncheon, attendees also enjoyed a presentation by Dr. Gregory Degnan, Medical Director for The Atlantic Coast Athletic Clubs based in Virginia, who discussed how corporations play an essential role in leveraging the health and wellness triad (physicians, corporations and the health and wellness community) to bring a better quality of health to all their employees.
Dr. Degnan focused not on the 20% of the population that has already committed to its own health and wellness, but on the next 60%, whom he considers the "de-conditioned interested." These individuals want to improve their health but do not view hospital-based treatment or commercial health and fitness centers as solutions. Dr. Degnan's P.R.E.P. program (Physician Referred Exercise Program) addresses this specific segment of the population, and has helped more than 24,000 people in the Virginia marketplace meet their health and wellness goals over the past 10 years.
P.R.E.P. is now offered at The Atlantic Clubs in Manasquan and Red Bank. Both clubs are staffed with a specially trained Health and Wellness Team that focuses on the needs and concerns of individuals taking up a serious exercise regimen for the first time.
The Atlantic Club's P.R.E.P. sets itself apart by incorporating medical oversight by the Club's Medical Director and Advisory Board, team members that are nationally certified in their areas of expertise, and an outcomes-based program that is tracked and measured pre- and post program. Results of the program are available to the individual's healthcare provider.
"Jersey Mike's has long been a proponent of healthy living, and we are committed to finding creative ways to encourage our team members to become more active whether at the office or at home," said Cancro. "I encourage my fellow CEOs across the country to join me in signing this pledge and take the lead in inspiring their employees to enjoy the benefits of a healthier lifestyle which can also build great camaraderie the workplace."
"It is truly an important day for the Atlantic Club, Monmouth and Ocean County residents and workers, and the entire country when local success stories like Jersey Mike's Subs take a leadership role in building health awareness and committing to healthier workplaces," Laus continued. "The Atlantic Club is honored and committed to not only signing the CEO Pledge but also having the tools to provide solutions to individuals who may have been under served in the past lead healthier and happier lifestyles."


About National Coalition for Promoting Physical Activity
NCPPA is a leading force in the country promoting physical activity and fitness initiatives. It is a diverse blend of associations, health organizations, and private corporations advocating for policies that encourage Americans of all ages to become more physically active.


About The Atlantic Club
With locations in Manasquan and Red Bank, New Jersey, the Atlantic Club provides a spectrum of programs and activities for the health, education and recreation needs of its members and the community. For more information, visit us at http://www.theatlanticclub.com/
To follow The Atlantic Club on Twitter, please visit www.twitter.com/TheAtlanticClub. To become a fan on Facebook, go to www.facebook.com/TheAtlanticClub. To subscribe on YouTube, visit www.youtube.com/TheAtlanticClub.