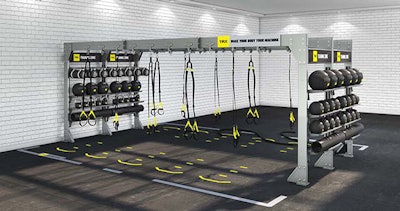 Sources: TRX, Aktiv Solutions
Collaborative Product Offering To Be Unveiled At The 2016 IHRSA Convention and Trade Show
San Francisco – March 8, 2016 - TRX, the industry-leader in functional training, and Aktiv Solutions, leading experts in the spatial design and layout solutions for commercial health and fitness facilities, today announced a joint venture where the two companies will bring their combined expertise to bear on behalf of commercial fitness facilities. The companies are developing a suite of comprehensive solutions for facilities looking to make a successful and efficient transition into the broader functional training world.
The partnership is meant to directly impact member acquisition and retention by leveraging the unique, yet complimentary strengths of the two companies – TRX's leadership in functional training solutions, programming and education, and Aktiv's unparalleled expertise in facility design strategies to optimize any space.
The end goal is a highly customizable, systemic product offering that brings significant benefits and spatial economies to commercial fitness operators. Emphasis will be on optimizing training space to support Suspension Training and other functional training modalities, and unique storage solutions for the widest variety of functional training equipment, among other benefits. The end result will be unveiled at the 2016 IHRSA Convention and Trade Show, March 21st through 24th at the Orange County Convention Center in Orlando, FL.
"Partnering with Aktiv, a company that brings unparalleled facility design expertise to the table, is a critical step in evolving our commercial fitness offering and maintaining our position as the global leader in functional training solutions," said Paul Zadoff, TRX President. "After more than a decade of leadership in developing functional training methods and programming, this partnership enables us to assist established commercial fitness facilities in making an effective transition to functional fitness programming in a manner that's efficient, sustainable, and profitable."
"TRX is one of the most recognized and authentic training brands in our industry today. The brand represents the modern evolution of fitness, emphasizing movement, and results-driven performance that is fun and ultimately, personally empowering," said Bryan Green, CEO of Aktiv Solutions. "Working with operators to create tailored and focused dynamic training spaces is our passion, and this partnership leverages that passion and bolsters it with the functional training expertise and significant brand strength of TRX."
About TRX®
TRX® is the training world's preeminent producer and seller of functional training programs, education and equipment for professional trainers, health clubs, military, fitness-oriented consumers and athletes of all levels. TRX designs and sells original products of innovative design and premium quality construction, including Suspension Training® and Rip® Training functional training equipment. Through a commitment to ongoing research and product development, TRX is changing the way consumers exercise, athletes train for sport, soldiers train for combat, physical therapists rehabilitate patients, and exercise instructors train clients. The complete line of TRX products, training programs, education and accessories can be purchased directly from TRX online at trxtraining.com. For more information on TRX products, education and programming call (888) 878-5348 or email info@trxtraining.com.
About Aktiv
At Aktiv we amplify dynamic training areas for health clubs and specialty studios alike. Our mission is to establish safe, functional, and revenue-generating space while our clients deliver inspirational exercise experiences. Integrating the principles of functional fitness with the technical expertise of functional design is our calling. We craft energizing and balanced operational solutions to accommodate today's explosive dynamic training trends.

Aktiv is the United States representative for GYM RAX™ and Fitgraphix™ and a proud Partner of leading fitness brands including TRX®, Ecore™ Athletic, and Anitgravity® Fitness. www.AKTIVsolutions.com or via email info@aktivsolutions.com