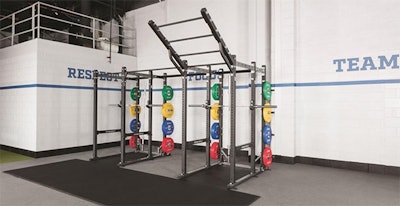 Source: Life Fitness
Lines offer a new level of configurability, durability, breadth and value
ROSEMONT, Ill., March 17, 2016 – Life Fitness, the global leader in commercial fitness equipment manufacturing, today announced two new product lines from the Hammer Strength brand. Hammer Strength Accessories and Hammer Strength HD Athletic provide athletic facilities and clubs with options for an Olympic Training space with a full-line of quality training tools.
New Hammer Strength Accessories Create Fully-Stocked Weight Rooms
The new line of Hammer Strength Accessories creates a one-stop solution for building a fully-stocked training facility. The new full-line offering includes:
Olympic training: bumper plates, bars, collars and technique blocks


Resistance training: Olympic weight plates, dumbbells, fixed barbells, kettlebells, sandbells, wall and medicine balls and resistance bands


Bodyweight training: plyometric boxes
"We now have an impressive line of over 300 premium products at a range of price points so our customers can select the accessories that best fit their facility's needs," said Greg Highsmith, director of Strength Product Management for Life Fitness and Hammer Strength. "We've sold Hammer Strength Plate Loaded machines, Free Weight Benches, and HD Racks for decades now without also providing Hammer Strength bars and plates to actually outfit the products. Now we have finally closed that gap."

HD Athletic Rigs and Racks Perfect for Weight Rooms, Performance Clubs
Hammer Strength's HD Athletic is a Rack and Rig system that allows facilities the flexibility to personalize an Olympic strength training area to their specific requirements whether it's a club or an athletic training facility. The rugged equipment gives a premium appearance and is built with the same quality and attention to detail that encompasses the Hammer Strength brand and its unmatched HD Elite.
"HD Athletic is designed with the same practical engineering and athletic training mindset which has made Hammer Strength the brand of choice in the highest level training facilities around the world," said Highsmith. "It's engineered to be tough and to withstand the strongest athletes."
For facilities that would like a customized team or brand look, the products are available in four different high wear paint options that can be mixed and matched for the frames, uprights and cross-members. The system is modular so you can start with a basic product and choose the style of pull-up handles desired along with other options such as bumper plate storage, power pivot, resistance band pegs, dip handles and flexible bar catches.
The HD Athletic and Accessories product lines compliment the long line of products which Hammer Strength has developed and continued to refine over the last 25 years, including products such as Plate Loaded, Ground Base, MTS, Hammer Select, and HD Elite.
Find out more about Hammer Strength Accessories, HD Athletic and the brand's full line of strength training equipment at www.lifefitness.com/hammer-strength.


About Life Fitness
Life Fitness is the global leader in commercial fitness equipment and game tables and furnishings. The company manufactures and sells its strength and cardiovascular equipment, productive well-being equipment, billiards tables and accessories, and game room furniture under the brand names Life Fitness, Hammer Strength, Cybex, SCIFIT, InMovement and Brunswick Billiards. Its equipment is distributed to more than 120 countries. Headquartered outside Chicago, in Rosemont, Ill., Life Fitness is a division of Brunswick Corporation (NYSE: BC).