Source: TECHNOGYM
The New Athletic Training Solution for Indoor Rowing
March 09, 2017 – TECHNOGYM, the world leading producer of design and technology-driven fitness equipment and solutions, is proud to announce the launch of SKILLROW, the first indoor rowing equipment designed to improve anaerobic power, aerobic capacity and neuromuscular abilities in one solution.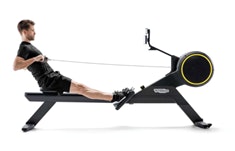 SKILLROW has been designed to provide an unparalleled feeling that simulates the actual act of rowing on water: AQUAFEEL.SKILLOW resistance follows the natural curve of the stroke in the water and with AQUAFEEL, the resistance is gradual, making the movement fluid and avoiding the backlash effect on the lower back.
As an official supplier to 6 Olympic Games and a partner to the world's best performing teams and athletes, TECHNOGYM has had a first-hand experience in the training methods and systems of thousands of worldwide sports champions in over 100 different disciplines. This know-how is at the heart of the TNT – TECHNOGYM NEUROMUSCULAR TRAINING, a new methodology that helps create high intensity workouts aimed at improving sports performance.
The TNT – TECHNOGYM NEUROMUSCOLAR TRAINING, has been developed by TECHNOGYM's Scientific Department in cooperation with professional athletes and research institutes. It offers specific exercise routines designed to stimulate both the neuromuscular and the metabolic components of performance through specific cadence variations providing:
• Improved muscle activation
• Increased inter muscular coordination
• Greater coordination between fibres of individual muscles and muscle groups
• Reduced metabolic effort due to better muscular recruitment
MULTIDRIVE TECHNOLOGY
The MULTIDRIVE technology (patent-pending) enables users to add a further resistance on top of air resistance. This ground-breaking innovation makes it possible for users to change the equipment mode from cardiovascular training to power training by simply adjusting the resistance level. By setting the resistance at low, medium or high, users can perform the rowing movement at various levels of difficulty when executing power exercises. The MULTIDRIVE technology also makes it safe to perform triple extensions (targeting hips, knees and ankles) with explosive forceful movements, just like one would during the push off phase when jumping and sprinting.
INTERACTIVE TRAINING
The SKILLROW APP enables users to enjoy a more motivating digital experience and have a virtual coach always available. The app includes a variety of training programs and tools to offer users guidance as a part of the TNT- TECHNOGYM NEUROMUSCULAR TRAINING system. The technology will also enable users to monitor and track their results, and to get real time bio-feedback on the training metrics to improve their performance, and even challenge their friends.
SKILLROWING CLASSES AND CIRCUITS
SKILLROW is ideal for athletic training inspired classes, group sessions and athletic performance circuits. In a group class SKILLROW offers users the chance to row together in total synchronicity as a crew for a truly engaging experience. Users can receive individual feedback on their own performance or compete against each other with the real time display of training data on a large screen.
About TECHNOGYM
Founded in 1983, TECHNOGYM is a world leading international supplier of technology and design driven products and services in the Wellness and Fitness industry. TECHNOGYM provides a complete range of cardio, strength and functional equipment alongside a digital cloud based platform allowing consumers to connect with their personal wellness experience anywhere, both on the equipment and via mobile when outdoors. With over 2,000 employees and 14 branches globally, TECHNOGYM is present in over 100 countries. More than 65,000 Wellness centers and 200,000 private homes in the world are equipped with TECHNOGYM. TECHNOGYM was the official supplier for the last six editions of the Olympic Games: Sydney 2000, Athens 2004, Turin 2006, Beijing 2008, London 2012 and Rio 2016.