Source: Gable
Gable has designed, manufactured and is installing new exterior identifying signage this month at PPG Paints Arena, the home of the National Hockey League's Pittsburgh Penguins.
PPG, a Pittsburgh-based coatings company, chose Gable to conceptualize the signage development, including a color-changing light concept for identifying signage on the arena's main facade. In all, four "PPG Paints Arena" signs are being installed on the arena's exterior, including the color-changing sign on the arena's main facade with full RGBW capabilities. The color-changing sign, developed and fabricated by Gable, will allow arena operators to change the color of "Paints" to commemorate holidays or other special occasions.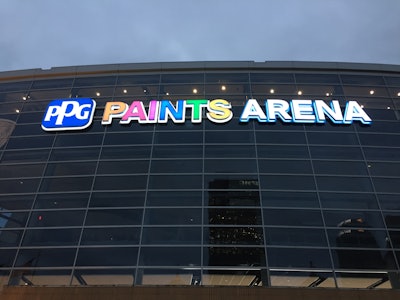 PPG, a Pittsburgh-based coatings company, and the Penguins agreed to a naming rights deal in October that changed the arena's name from Consol Energy Center to PPG Paints Arena. Gable manufactured and installed the arena's first exterior identifying signage for Consol Energy Inc. in 2009, when the arena opened. The arena's new exterior signage is expected to be completely installed by the end of March.