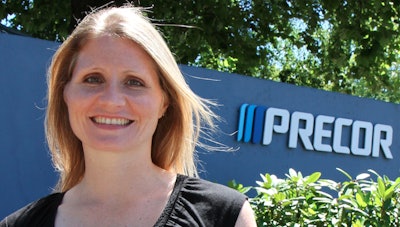 Source: Precor
Woodinville, WA - March 2017. Erica Tillinghast, Precor Global Education Manager, is one of just 22 young professionals to have been recognized as a Rising Star by the International Health, Racquet and Sportsclub Association (IHRSA) in acknowledgment of her outstanding impact on the business and the global fitness industry.
The IHRSA Rising Stars initiative was founded to showcaseyoung talent (35 years old or younger) within the health and fitness sector; recipients were nominated by employers, peers or colleagues, and finalists were chosen by an IHRSA committee.
"I am thrilled to have been identified as a Rising Star in recognition for the work I undertake and for what I have achieved. The education services at Precor have evolved over the last few years and I have been fortunate to have played a significant role in its growth," says Tillinghast. "With more than 50 Master Coaches on six continents, our team delivers workshops and courses and is an integral part of the business."
Having worked in the fitness industry since 2004, Tillinghast has been with Precor for over three years and, prior to joining, worked as a professional performing artist, a personal trainer, a global program developer and athletic director.
Tillinghast continues: "The Precor Coaching Center (precor.com/education)is fundamental to the business and provides best in class training experiences to fitness professionals and operators. We are deeply committed to world class education that makes fitness professionals better at what they do, leading to increased revenue for the club and trainer and more targeted training programs for exercisers."
With over 10,000 members in 75 countries and associations with many government agencies and organizations, IHRSA is dedicated to making the world healthier through the promotion of regular exercise and activity.
About Precor
Precor, headquartered in Woodinville, WA, designs and manufactures premium end-to-end commercial and at-home fitness solutions. Precor delivers the personalized products, service experiences and resources operators need to grow their businesses, and the tools exercisers need to reach their fitness and lifestyle goals. Since 1980, Precor has been a pioneer in creating innovative fitness solutions for customers, including the EFX® Elliptical, Adaptive Motion Trainer® AMT® and Preva® Networked Fitness. In 2015 Precor added Queenax™ functional training to its product portfolio and announced its partnership with Spinning®, the world leader in indoor cycling. Six new Spinner® bikes were launched in 2016. Precor is part of Amer Sports Corporation, one of the world's largest sports equipment companies, with internationally recognized sister brands that include Wilson, Atomic, Suunto, Salomon, Arc'teryx and Mavic.