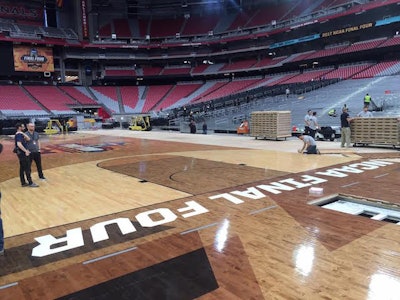 Source: Connor Sports
Connor Sports® Sustainability Timber Project Delivers Championship Courts
AMASA, Mich. (March 24, 2017)– Student-athletes competing in the 2017 NCAA Men's and Women's Final Four will be shooting for a championship on basketball courts manufactured by Connor Sports, the Official Court Provider of the NCAA from wood sustainably harvested from The Nature Conservancy's Two Hearted River Forest Reserve.
Connor Sports as Official Court Provider of the NCAA single-sourced all the timber from Sugar Maple trees in the Conservancy's Forest Stewardship Council (FSC)-certified forest in Michigan's Upper Peninsula.
"As Champion of Environment, our goal at Connor Sports is to provide our NCAA customer with the best possible court products using responsible forestry practices," said Jason Gasperich, Director of Sustainability for Connor Sports. "This unique method will mark the first-time Connor Sports has single-sourced all the timber for a customer project from one forest, and Sugar Maple trees are the industry's most prized species known for their durability, strength and light coloring."
The Two-Hearted River Forest Reserve, in Michigan's Upper Peninsula, spans approximately 24,000 acres. Sustainable forestry practices include ecological thinning, selectively cutting trees to improve the health of the forest that are also economically viable. Thirty-five acres of the Reserve were sustainably harvested to create this year's championship floors.
The men's court will be installed Friday, March 24 at University of Phoenix Stadium in Glendale, AZ, while the women's court will be installed Tuesday, March 28 at American Airlines Arena in Dallas.
The 2017 Men's Final Four Official Court from Connor Sports is a QuickLock™ portable and is 70' X 140' and totals 9,800 square feet using 397 4' x 7' panels weighing approximately 188 pounds each or 14 tons in total. The 2017 Women's Final Court is 60' X 120' and totals 7,200 square feet using 262 panels weighing a total of 10.3 tons. The installation process led by Connor Sports technicians is approximately six hours.
ABOUT CONNOR SPORTS
Founded in 1872, Connor Sports® is the leader in hardwood sports flooring and is a preferred provider to the NCAA, NBA, FIBA and other organizations. Connor Sports has a proven commitment to sustainability with an excellent environmental record in responsible forestry including use of Forest Stewardship Council (FSC)-certified materials and is the only flooring company with an Environmental Product Declaration. The company's manufacturing facility in Amasa, MI is independently-audited and compliant with ISO 14001 standards. Connor Sports products also include leading vulcanized rubber sports surfaces. Connor Sports is a part of a Gerflor® company. Gerflor's cutting-edge technology, history of innovation and design-forward products as an international leader in the flooring industry provides Connor Sports with global scope and enhanced research and technology. The Gerflor portfolio also includes Sport Court® and Taraflex® brands. Connor Sports is on the web at www.connorsports.com, Facebook at www.facebook.com/connorsports and on Twitter @Connor_Sports.