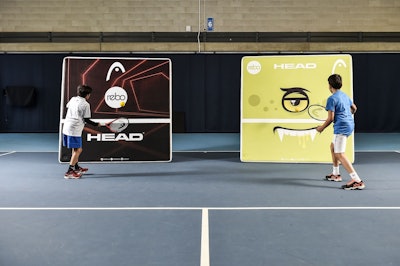 Source: PTR
Hilton Head Island, SC — Professional Tennis Registry (PTR) announced today that REBO has joined the organization as a Corporate Member. Established in the UK in 2013, REBO is breaking into the US market.
Not your average tennis practice backboard, REBO walls are made for non-traditional spaces and come in an inflatable version that gives 'portable' new meaning. Like any good invention, REBO was born out of necessity. Looking for a free standing, easy to install, adjustable angled faced practice wall for his tennis club, PTR member Adrian Hutchins realized his best bet was to invent one. In 2013, he designed REBO Wall and founded the company.
With its unique patent pending angled face, REBO walls create a realistic upward ball arc trajectory and a natural flight to the rebounded ball that is completely different from a traditional backboard or wall. Available in a variety of fabrications, from a synthetic grass surface to replicate playing 'Wimbledon' to the indestructible concrete 'Street', tennis players and coaches may be particularly interested in the portable inflatable 'Speed' REBO wall.
Easily packed down, stored or moved to a different location, the 'Speed' REBO inflates in minutes. It comes in a range of colors and designs, including two HEAD branded versions. The 'Speed' REBO wall is currently being used by Judy Murray in her 'Tennis on the Road' and 'Miss Hits' initiatives, as well as universities and tennis facilities to engage players of all levels and abilities.
For information and product demo videos, visit www.rebowall.com or email info@rebowall.com
Also follow Facebook: Rebo Wall; Twitter: @REBO_wall; and Instagram: @rebowall
About PTR
PTR is the largest global organization of tennis coaching professionals with more than 15,700 members in 125 countries. It has the greatest percentage of multicultural and women members of any such organization. PTR is dedicated to educating, certifying and servicing tennis teachers and coaches around the world in order to grow the game.