Source: Torque Fitness
COON RAPIDS, Minn. – May 9, 2017 – The new TANK all-surface sled from Torque Fitness continues to receive rave reviews and inspire passionate fans in the United States and throughout Europe where the unique product recently debuted in Cologne, Germany, at FIBO, the world's largest fitness trade show. Editors from Men's Health in The Netherlands tried TANK and ranked it No. 1 on its list of the "11 Most Exciting Fitness Trends of FIBO 2017."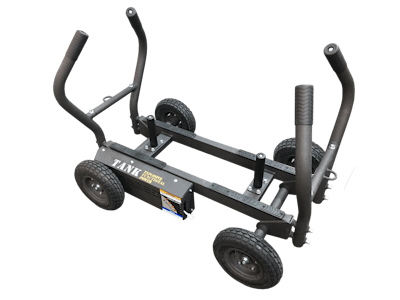 Furthermore, European publication Fitness News reported that hundreds of people waited at FIBO to take on TANK: "Torque Fitness, which has made a name for itself with functional and strength training gear in the U.S., is making a big stride into the European market through a partnership with Move to Live, covering the Benelux and German-speaking markets." Torque also is working with Concept Träningsredskap in Scandinavia and MT3 Fitness in the United Kingdom.
"I've never seen as many smiles after trying a piece of equipment as witnessed at FIBO, with more than 400 demos and everyone enthused about it," noted Mark Turner, the managing director of MT3 Fitness, where he uses TANK with beginning exercisers, fitness fanatics and professional athletes. "With more than 30 years buying and selling fitness equipment, I believe that the Torque Tank is one of the most exciting, dynamic and functional pieces."
TANK Defined
Magnetic braking technology allows TANK users to select from four levels of resistance to accommodate beginners to elite athletes. The versatile TANK provides a total-body workout via pushing and pulling that increases speed, acceleration and explosive power. It uniquely resists the user's effort to accelerate, so the faster one pushes, the harder it gets, thereby preventing plateaus in performance, and users can add weight plates to TANK for extra traction.
Created in response to feedback from coaches and trainers, new performance handles facilitate a lower running position, which is ideal for athletes and sport-specific conditioning. Curving inward and forward, the performance handles draw the hands closer, reducing stress on the shoulders and reflecting a true running stance. Also new is a secondary horizontal grip position and higher attachment point for pulling movements.
Tow hooks accommodate pulling exercises and battle rope workouts. And an optional group accessory kit, including two ropes and locks and V-straps and harnesses, enables two users to train simultaneously with TANK.
Plus, TANK can be used on any surface, indoors or out, including turf, wood, rubber, concrete and grass, so athletes can train where they compete. An optional Group Anchor Station easily transports weights, battle ropes, straps, balls and other accessories for workouts anywhere.
"As the demand for TANK grows rapidly in the U.S., we are experiencing the same fervent response in Europe because this exciting product fulfills multiple training needs and has unlimited potential," said Jerry Dettinger, CEO of Torque Fitness.
About Torque Fitness
By collaborating directly with fitness facilities, Torque Fitness develops customized, unique training solutions that accommodate any member mix, any space, any number of users and any type of training. In this way, Torque Fitness equips health clubs and training centers to drive their members to realize their full potential and achieve personal goals. Torque understands that advancement in exercise science doesn't pause; the need to stay on the cutting edge is always there. The battle for the hearts and minds of motivated people never ends. Be never satisfied, never finished. Don't quit.