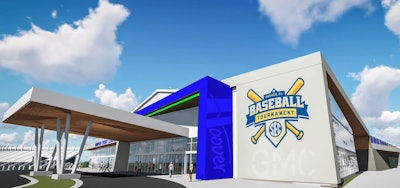 Source: Goodwyn, Mills and Cawood, Inc.
Hoover, Ala. - The City of Hoover's new 155,000-square-foot indoor events center will open its doors for the first time next week, just in time for the 2017 Southeastern Conference Baseball Tournament on May 23-28. The tournament will feature its first ever FanFest at the newly-constructed Finley Center adjacent to the Hoover Metropolitan Complex where the baseball games will be played.
The indoor facility is the first phase of the $76 million Hoover Sports & Events Complex, designed by Goodwyn, Mills and Cawood, Inc. (GMC), with Brasfield & Gorrie as the construction manager.
"This project will be a major economic driver for the city and will provide new opportunities for the community for years to come," Yann Cowart, GMC Sports Vice President and lead project architect, said. "GMC is proud to be a part of this momentous project, which highlights our firm's growing emphasis and leadership in sports-related design."
Finley Center features 11 regulation-size basketball courts, 16 regulation-size volleyball courts, a future climbing attraction, walking track, locker rooms, food court, convenience store, performance center and flexible meeting rooms. Designed to serve multiple uses, the events center can accommodate a variety of functions and sporting activities, including trade shows for 300 booths, banquet seating for 2,400 and theatre-style seating for 5,000. Drop-down netting also provides the option to divide spacing within the center allowing multiple activities to take place simultaneously.
Construction is now underway on the outdoor portion of the complex, which will feature five NCAA regulation-size soccer/football/lacrosse fields, five NCAA regulation-size baseball/softball fields, designed to accommodate up to 16 tennis courts with pro shop, two-mile walking track, playground, splash pad and a large event lawn. The existing RV park will be expanded from 149 to 172 spaces with full hook-ups, and additional parking will provide approximately 5,000 spaces on-site. This second phase of construction is slated for completion in early 2018.
Goodwyn, Mills and Cawood, Inc. (GMC) is one of the region's largest privately-held architecture and engineering firms, with more than 375 employees located in offices throughout the southeastern United States. While the company has evolved tremendously since its launch in 1947, our founding principles remain a vital part of our daily operations. We maintain our commitment to keeping client satisfaction, creativity, quality, integrity and diversity as the primary focus of every project. One of the most comprehensive multi-disciplined firms in the Southeast, GMC is equipped to provide all of the services associated with architecture, engineering, environmental, geotechnical, interior design, landscape, planning, surveying and transportation. www.gmcnetwork.com