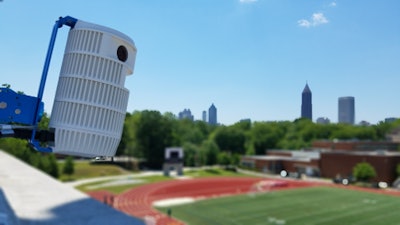 Source: Pixellot
Atlanta & Tel Aviv, 25 May 2017 – PlayOn! Sports, America's leading high school sports media company, and Pixellot, the leading provider of automated sports production solutions, today announced a partnership to bring automated sports production to U.S. high schools. By deploying Pixellot's unmanned cost effective systems, high schools can now affordably cover any game and broadcast on the NFHS Network.

Operated by PlayOn! Sports, the NFHS Network brings together the National Federation of High Schools, state athletic associations, and member high schools. Covering more than 35,000 events produced in 2016, the network is the largest destination for high school sports broadcasts in the country. Even with member associations and schools producing mostly playoff and championship events, 90% of the 4 million high school games remain uncovered.

By introducing Pixellot's automated production system, PlayOn! Sports enables schools to break the cost barrier and extend coverage to any game played on their home courts. The fixed installed system deploys computer vision technology to seamlessly capture and produce games without the need for a video crew. Game footage is automatically streamed to the NFHS Network portal where it can be watched live or on demand.

"Our partnership with Pixellot is a quantum leap toward comprehensive coverage of the high school sports experience," says David Rudolph, CEO at PlayOn! Sports. "We're already deploying Pixellot systems for basketball, soccer, volleyball, lacrosse and wrestling broadcasts, and will soon extend automated coverage into additional sports."

Doug Billman, President, Pixellot USA, adds: "We're excited to partner with PlayOn! Sports and its NFHS Network, the leading players in the U.S. high school sports media space. Our automated systems democratize sports broadcasts and will enable nearly 8 million of players and 50 million fans to engage with the high school teams they cheer for."


About Pixellot
Pixellot offers automated sports production solutions that provide affordable alternatives to traditional video capture, production and distribution systems for both professional and amateur sport events. Pixellot's patented technology solution streamlines production workflow by deploying an unmanned multi-camera system in a fixed rig, with additional angles as required, to cover the entire field, offering a stitched panoramic image. Advanced algorithms enable automatic coverage of the flow of play and highlight generation. Pixellot was founded at 2013 by Dr. Miky Tamir and Gal Oz, bringing extensive experience in broadcasting and media technologies, as well as in sports technology. Pixellot systems are deployed by broadcasters, production companies, clubs, sports portals and coaching solution providers around the globe. For more information: www.pixellot.tv
About the NFHS Network
PlayOn! was founded in 2008 with the purpose of honoring and celebrating the commitment and achievements of high school students, parents, coaches, and teachers - inside the walls of the schools and in communities across the country.

PlayOn! Sports is the nation's leading high school sports media company, streaming more live events than any other company in the country. PlayOn! operates The NFHS Network, a joint venture of the National Federation of State High School Associations (NFHS), its member State Associations, and PlayOn!. PlayOn! manages the day-to-day operations of the NFHS Network, which delivers live and on demand high school events at http://www.NFHSnetwork.com.

With relationships with more than 10,000 schools across the country, PlayOn! provides brand partners with unparalleled insights, access, analytics and activation on the high school market, including students, athletes, teachers and communities.