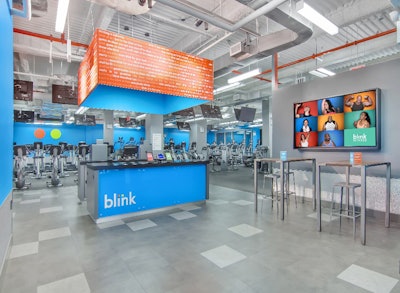 Source: Franchise Elevator PR
New York-based brand opens over 50 locations in less than six years; Set to continue growth through franchisee- and corporate-owned gyms
NEW YORK, NY – In just six years, Blink Fitness – a premium-quality, value-based fitness brand that focuses on how exercise makes you feel rather than how it makes you look – has become one of the fastest-growing gyms in the country, with additional expansion on the horizon.
Since launching the brand in 2011, Blink has opened 53 corporate locations serving over 300,000 members throughout New York and New Jersey. The company also has more than 20 additional gyms, both corporate and franchisee-owned, under contract in various U.S. markets.
"We've been focused on finding the best franchisees who have a similar passion for delivering a high quality proposition. That probably means we won't have the biggest system, but will surely have the best," said Blink Fitness President Todd Magazine. "With over 50 locations under our belt, we have a proven model that will make it easy for franchisees to bring Blink's unique experience to life."
According to Magazine, Blink will have about 70 locations open and operating by the end of the year, including the brand's first locations in Pennsylvania and California. He also expects Blink to surpass the 300-unit mark over the next five years.
Blink offers a truly unique experience to its members, based on a company philosophy of Mood Above Muscle™, which celebrates the positive feelings you get from exercise rather than just the physical benefits. Their Feel Good Experience® comes to life in each gym through a commitment to providing modern and colorful design, elevated customer service, relentless focus on cleanliness, energizing music and confidence-boosting training programs.
"Our focus on helping people feel good is a game-changer in an industry that has spent decades suggesting that fitness is all about big muscles and sculpted body parts. That unrealistic expectation is the reason 85% of the US population doesn't go to a gym," added Magazine. "We are the first gym to show people of all shapes and sizes in our marketing and focus on how fitness makes you feel. That is far more aspirational to the majority of Americans versus the typical body perfection espoused by other fitness concepts."
Including a franchise fee of $10,000-$40,000, the initial investment to open a Blink Fitness franchise is $637,000-$2,100,000. The average gym utilizes about 12,000-18,000 square feet, and retains approximately 11 full- and part-time employees.
For more information about the Blink Fitness franchise opportunity, please visit http://www.blinkfranchising.com.
About Blink Fitness
Founded in 2011, Blink Fitness is a New York-based premium quality, value-based fitness brand with more than 70 locations open or in development throughout New York, New Jersey, Pennsylvania and California. Blink Fitness puts Mood Above Muscle™, celebrating how exercise makes you feel, not just how it makes you look. Each gym employs the company's signature Feel Good Experience® that highlights enthusiastic staff members, a clean environment, an open, spacious, and colorful design, energizing music and fitness training that is motivating and affordable.