Sources: Precor and Assault Fitness
Bringing Moveable and Lightweight H.I.I.T Options to the Gym Floor
Woodinville, WA - June 2017 Precor and Assault Fitness have once again joined forces to provide fitness facilities worldwide with two new products to innovate interval training offerings – The Assault AirBike Elite and the Assault AirRunner. With high-intensity interval training (H.I.I.T) voted one of the Top 3 Fitness Trends in 2017 by the ACSM Health and Fitness Journal®, these two new products provide an easy, flexible way for facilities to incorporate dynamic H.I.I.T training onto the gym floor.
The Assault AirBike Elite, an enhanced version of the popular Assault AirBike Classic, designed with feedback from facility owners, cycling enthusiasts, personal trainers, and physical therapists, enables operators to offer the ultimate challenging, differentiated and versatile workout experience. Featuring a 27-inch steel fan it provides unlimited, personalized resistance - the harder an exerciser pedals, the more resistance the bike gives. By pushing and pulling the moving handlebars the whole body can be engaged or exercisers can focus exclusively on upper body conditioning by setting their feet on pegs located on either side of the enclosed, shroud-covered fan.
Eight pre-programmed workout options, including goal-based distance, calories, heart rate and time selections or custom interval and high-intensity choices, keep workouts fresh and engaging.
The Assault AirBike Elite design emphasizes durability with features including a sweat-proof seat and a dual-stage chain drive system that saves time and money by requiring less maintenance.
The Assault AirRunner is one of the lightest treadmills of its kind (280 lb / 127 kg), with no electrical consumption and a low carbon footprint that packs an intense workout into a small package. Speed is controlled solely by the exerciser and where they position themselves on the treadmill belt. With no on/off button or maximum speed, the Assault AirRunner is specifically designed with H.I.I.T workouts in mind, allowing the exerciser to jump on and go, and to push their workout as hard as they want.
Easy to move and set up, both the Assault AirBike Elite and the Assault AirRunner present a multitude of ways to exercise different muscle groups and can be used to add a high -intensity interval training component to functional training group exercise classes or specialized sessions. They can easily be combined with a Queenax ™ functional training unit to offer a dynamic group training experience.
Mike Dorman, Product Manager for Precor, comments: "Precor is committed to delivering personalized health and fitness experiences that help exercisers to achieve their goals. These two new products provide both elite athletes and exercisers with the ultimate opportunity to experience the feeling of a natural motion, whether it's cycling, running or walking, while still being in total control of the amount of exertion and effort they use. Both products take up limited storage space, provide flexibility and can greatly enhance training sessions. The Assault AirRunner enables facilities with minimal space to incorporate running into workouts, while the Assault AirBike Elite provides a total body workout that compliments functional training programs."
The Assault AirBike Elite and Assault AirRunner can be used in the following ways:
Assault AirBike Elite: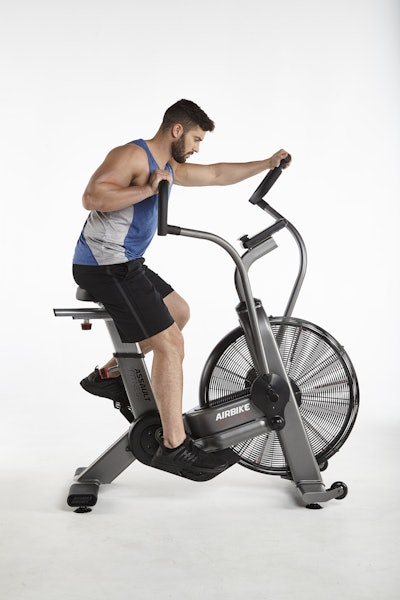 Position hands and feet on handles and pedals, push and pull. Perform at a slow pace for recovery, or at an all-out speed during intervals.
Set feet on pegs and position hands on handles. Push or pull, driving with upper body.
Assault AirRunner:
Walk on the treadmill to become familiar with the manually driven belt. To walk faster, stride out and reach feet in front of the uprights. When ready, change to a jog. If necessary, hold on to handrails during transition. To sprint, considering holding on to the handrails until confident. To slow down, hold on to the handrails, push up and lift feet to the side rails.
Face sideways on the treadmill with both hands on one handrail. Start shuffling, making sure feet land in the center of the belt. Land one foot in front of the upright to increase speed.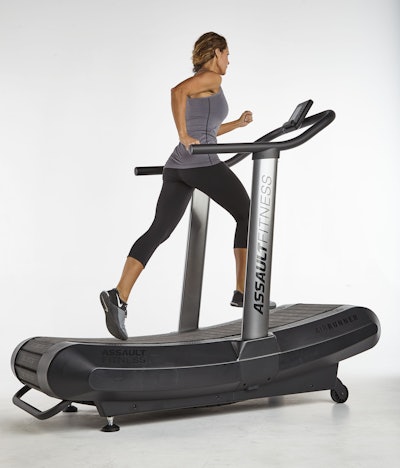 About Precor

Precor, headquartered in Woodinville, WA, designs and manufactures premium end-to-end commercial and at-home fitness solutions. Precor delivers the personalized products, service experiences and resources operators need to grow their businesses, and the tools exercisers need to reach their fitness and lifestyle goals. Since 1980, Precor has been a pioneer in creating innovative fitness solutions for customers, including the EFX® Elliptical, Adaptive Motion Trainer® AMT® and Preva® Networked Fitness. . In 2015 Precor added Queenax™ functional training to its product portfolio and announced its partnership with Spinning®, the world leader in indoor cycling. Six new Spinner® bikes were launched in 2016. Precor is part of Amer Sports Corporation, one of the world's largest sports equipment companies, with internationally recognized sister brands that include Wilson, Atomic, Suunto, Salomon, Arc'teryx and Mavic.
About Assault Fitness

Assault Fitness is the manufacturer of cardio and high intensity interval training (H.I.I.T.) solutions engineered to improve the fitness levels of enthusiasts, elite athletes and weekend warriors. Assault Fitness is home of the Assault AirBike, the most durable and best-selling AirBike on the market, currently distributed in over 80 countries. Assault Fitness is a division of LifeCore Fitness, a family owned company established in 1994 as a single retail location, now distributes fitness equipment worldwide under the Assault Fitness and LifeCore Fitness brands from their headquarters in Carlsbad, CA.