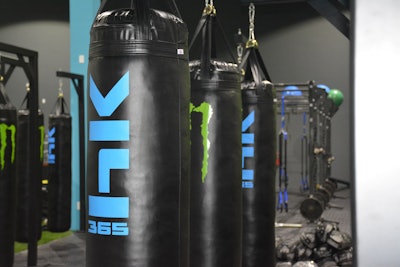 Source: Hard Knocks 365
Fitness club offers a wide array of training programs that will not only improve your physical fitness, but your overall lifestyle, and general health
FORT LAUDERDALE (July 5, 2017) – Hard Knocks 365 (HK365), an all-access fitness training center, is pleased to announce it is open for business at Xtreme Action Park, South Florida's premier indoor entertainment complex. Within the walls of the 30,000-square-foot facility there is an indoor field turf, soccer field (coming soon), two fully-sized basketball courts, heavy bags, fully-equipped weight room, 4,500 square feet of matting for combat training, men's and women's locker rooms, showers, and more. All your fitness & sports performance goals can be achieved under one roof!
The venue has three core functions; sports performance training (XPE Sports), combat training (kickboxing and Brazilian jiu jitsu) and basketball (House of Hoops 365). With this instilled variety, there is something for everyone under the Hard Knocks 365 roof. The gym's already existing roster of professional athletes includes MMA fighters Michael Johnson, Robbie Lawler, Volkan Oezdemir and Michael Chandler, as well as NFL players like Darrelle Revis, Anquan Boldin, Mark Ingram, Pierre Garçon and Byron Maxwell.
Adult and Youth memberships for the XPE Sports program are available for purchase and will be limited to 250 memberships total. Memberships include full access to XPE's programming and will also offer paid programming for services such as personal training, sports clinics, team training, athlete assessments, and more. As for kickboxing and Brazilian Jiu Jitsu, class schedules will be to the discretion of the head trainers due to varying factors, thus offering degrees of flexibility to students.
Hard Knocks 365 will also include a medical/sports rehab and recovery facility under the direction of XPE's Medical Director, Dr. Kevin Christie.
"In competitive sports, there is a real need to make sure that we are treating these amateur and pro athletes with the ability to play at their best," says Tony Villani, head coach of XPE Sports. "And now, we're happy to be a part of this endeavor and to offer our core XPE adult training programs to the general population, whereas before it was only available to aspiring professional athletes".
"If you want to be a fighter, or train like a fighter, Hard Knocks 365 is the place for you", says Henri Hooft, head coach of the kickboxing program and former kickboxing world champion. "This initiative is a great step forward; we're going to make our regiments and programs both more accessible and more attractive to the community", adds Grand Master Mario Sperry, three-time Brazilian Jiu Jitsu world champion.
Hard Knocks 365 is located inside of Xtreme Action Park at 5300 Powerline Road, Fort Lauderdale, FL 33309. Hours of operation are Monday – Thursday from 5 a.m. – 9 p.m., Saturday from 8 a.m.-2 p.m., and closed on Sunday. For more information, please visit http://hardknocks365.com/.
About Xtreme Action Park
Xtreme Action Park is quickly growing into the largest all-ages indoor entertainment complex in the United States. Located in Fort Lauderdale Florida., Xtreme Action Park features a unique mix of indoor attractions including a gas-powered Go Kart Race Track, The Arena Roller Skating Rink/Performance Venue, Rockin' Jump Trampoline Park, Sky High Indoor Ropes Course Adventure, Fort Lauderdale Auto Museum, Evolution Escape Rooms, XD Dark Ride 3D Theater, Mini Café Bowling Lanes, Glow in the Dark Arena for Bazooka Blast, All-American Café, Hershey's Shake Shoppe, a sports bar and private rooms and meeting/conference spaces for private and corporate events. Xtreme Action Park will continue its expansion during the next several years. The entire venue is open to the public and is available for private events. For more information, please visitwww.XtremeActionPark.com, call 954-491-6265 follow or follow on social media: Facebook.com/XtremeActionPark,Twitter.com/XActionPark, Instagram.com/XtremeActionPark.