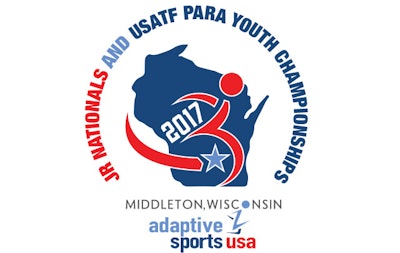 Source: Madison Area Sports Commission
Adaptive Sports USA announced that the Adaptive Sports USA Junior Nationals 2017 will be held on the campus of Middleton (WI) High school the week of July 15th - 22nd. Athletes with physical disabilities from the ages of six to twenty two years of age from all over the United States will come to Middleton to compete in track & field, archery, swimming, table tennis, air guns, powerlifting and para-triathlon.
"The Adaptive Sports USA Junior Nationals has a long tradition of transforming the lives of athletes with physical disabilities", said Gregg Baumgarten , the event director in 2017. Baumgarten went on to say "We are thrilled to have Middleton again host this year's event and welcome the competitors, parents and coaches to Wisconsin."
The Adaptive Sports USA Junior Nationals event is held annually at a different location throughout the United States. Junior Nationals was first held in 1984 in Delaware and is the oldest, continuously held competitive sports event for junior athletes with physical disabilities in North America.
For more information on this amazing event, check out juniornationals2017.com or adaptivesportsusa.org