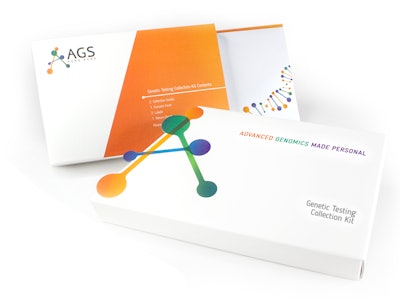 Source: Advanced Genomic Solutions
(Phoenix, Arizona – July 14, 2017) Scottsdale-based Advanced Genomic Solutions (AGS), an international leader in genomic testing, announced that its Health & Wellness Genetic Test is now offering an even more comprehensive and actionable report to its clients. The new report provides additional personalized recommendations in three areas: Food/nutrition, Supplements, and Exercise. The new reports follow AGS expanding its test to include additional genes, SNPs and variations.
The three most popular highlights from the new report are the Overall Health Awareness and Effort Score, the Grocery List and the recommended Exercise/Workout.
Overall Health Awareness and Effort Score: AGS evaluates the most clinically validated biomarkers for obesity and BMI by using a scientific algorithm to determine a client's score. If the score is high, it does not mean the individual is doomed to be obese. Instead, it means that the client would find it more beneficial to adhere to the right diet and exercise recommendations according to their DNA. This will keep them on track and help the client to achieve optimal health and wellness.

The Overall Health Awareness and Effort Score is a rating between 1 and 10 (1 means a low level of awareness and effort level is required to stay healthy, 10 means a high level of effort and awareness is required to stay fit). It is calculated by examining SNPs in your DNA that have been associated with weight gain including BMI, waist circumference, and body fat percentage. These DNA base pairs represent various tendencies such as overeating, lower metabolic rates, cravings for sweet foods, and other behaviors that can lead to weight management issues. Being aware of one's genetic tendencies will allow report recipients to understand the level of effort needed to support overall health and wellness.
Grocery List: The report provides extensive dietary recommendations based on what your body can properly metabolize and absorb. In addition to a recommended proportion of different foods (proteins, carbs, fats, etc.) based on your unique body's needs, AGS has added a grocery list section, complete with recommended meals and snacks. The grocery list also includes foods that you should avoid.
Recommended Workout/Exercise: The report provides specific recommendations as to what type of exercise a person's unique DNA needs most. For example, it might advise that a higher percentage of endurance exercise might be more beneficial to weight training or sprint training. The new report shares sample workout recommendations to help an individual's body to maintain or improve fitness. For example, a recommendation might be to run hard to the end of your street from home, and walk back then to repeat the process a few times vs one consistent continuous run a few times around the block. The detailed recommendations can be particularly useful to professional trainers in designing a workout for a client, elite athletes who have peaked and are trying to jump to the next level, people trying to maintain their current fitness or those trying to lose weight helping them focus on exercise most likely to get them noticeable results.
Taking in conjunction, the reports serve as blueprint for overall health and weight related issues, whether that desire be to lose, gain or maintain weight.
The new reports are in part, a result of AGS expanding the number of genes, SNPs and variations studied. AGS now reviews 58different genes, 61 different SNPs (up from 54) and more than 75 different variations.
SNP stands for Single Nucleotide Polymorphism. A SNP is a mutation of the DNA which allows for genetic variation when one nucleotide is replaced with another. These SNPs act as "biological markers" to help scientists locate genes associated with human health and disease. It's these variations which affect nutrients, the body's response to exercise, etc. AGS' ability studying these genes, SNPs and variations allowed for the more detailed and actionable reports to be created.
The additional data allowed for creation of an even more enhanced report.
"By expanding the genes and SNPs tested, we are able to expand the report to include even more usable, actionable information," saidLance Bennett, Co-Founder at AGS. "We're getting fantastic response from those who take the test that love the new grocery do's and don't list, and the expanded workout recommendations based on the individual's unique DNA. We decided to make these new reports our standard going forward while not raising the price for this only-take-once-in-your-life test."
All it takes is a basic cheek swab DNA test at home, which then gets mailed off to an AGS lab. Anyone can do it themselves, and there's no spitting in a cup. A few weeks later, the customer receives an individualized report to help them understand how their genetics affect their diet, exercise, and nutrition. Live one-on-one consultations per test come standard to review the results.
"This simple test using your genetic information will serve you forever, enabling you to make informed healthcare choices specific to your body," Bennett continued. "The personalized health report will help tell people what type of exercise best suits their genetic profile, will let them know the best supplements for their genetic makeup, and increased awareness of behavior tendencies to promote healthier eating habits, prevent diseases and reduce obesity."
Those wanting to learn more or purchase an AGS Health & Wellness Genetic Test can Click here to learn more.
About Advanced Genomic Solutions
Advanced Genomic Solutions (AGS) empowers patients and physicians to make more informed choices about prescription drugs, nutrition, and exercise. Through advanced genomic technology, AGS improves lives, saves medical expenses and educates patients to be advocates for their health. AGS is the leading expert in integrating Pharmacogenomics and Health & Wellness testing into physician's practices to provide the best standard of care for their patients. Headquartered in Scottsdale, Arizona and Hong Kong, AGS has successfully launched hundreds of advanced medical products in China, South East Asia and India since 1997. For more information, visit www.ags-health.com.