Source: University of Illinois at Chicago
Chancellor Michael Amiridis has named Garrett Klassy the University of Illinois at Chicago's director of athletics designate, pending final approval by the University of Illinois Board of Trustees. Klassy has more than 21 years of intercollegiate athletics experience, including recent leadership positions at George Washington University, the University of Oregon, the University of Alabama and Tulane University.
Klassy begins at UIC on Aug. 15. He will succeed Jim Schmidt, who has served as director of athletics for more than 22 years and will retire Aug. 1.
"Garrett is the right person to lead the Flames into a new era. He has the passion and experience to help us achieve competitive excellence and continue to enhance the academic success and overall experience for our student-athletes," said Amiridis.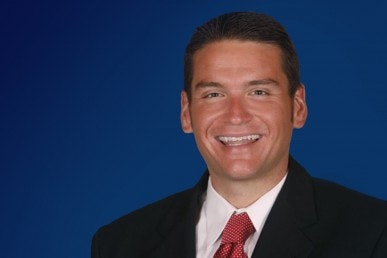 Klassy currently serves as senior associate athletics director for external relations at George Washington University, an NCAA Division 1 program with 27 teams and 95 team championships in 15 different sports. He joined the program in 2013 and is responsible for development, corporate sponsorships, sports marketing, ticket sales and communications. He also has sport administration management responsibilities for men's basketball, baseball, women's gymnastics and men's soccer.
His leadership and success in fund raising has led to the two largest donations in GW Athletics history and "his experience in coordinating and implementing a strategic plan and vision for athletics programs will be crucial as we grow UIC Athletics," said Amiridis.
Before joining GW, Klassy served at the University of Oregon from 2005 to 2013. He led the operations and staff of the Duck Athletic Fund, ticket office and sales departments and was part of the management team that raised more than $140 million for Oregon Athletics Legacy Fund. Earlier in his tenure at Oregon, he oversaw ticket sales and operations of the athletic ticket office and managed donor/customer relations.
Prior to Oregon, Klassy was assistant director of ticket operations at the University of Alabama from 2001 to 2005, and director of ticket operations at Tulane University from 2000 to 2001. He also held positions at the Louisiana Superdome and New Orleans Arena.
"I am honored to join UIC as its new director of athletics and grateful to Chancellor Amiridis for entrusting me with this role. The UIC values and traditions of excellence in both academics and athletics make this a tremendous opportunity," said Klassy. "We will be passionate and focused on creating the best student-athlete experience possible. It starts with continuing to provide - and enhancing - the excellent education UIC provides. We will also be active in the community, and strive to compete athletically at the very highest, championship levels. This combined effort will be designed so each and every student-athlete on our campus has the opportunity to achieve their fullest academic and athletic potential.
"I look forward to collaborating with our supportive alumni, the campus community, the great city of Chicago and our colleagues in the Horizon League. Moreover, I am excited to work with the faculty, impressive coaches, staff and student-athletes. My wife and I are thrilled to join the UIC family."
Klassy, 40, received his bachelor's degree in communication arts from the University of Wisconsin. He is married to Lindsay Klassy.
---
"What They're Saying"
Patrick Nero, Director of Athletics, George Washington University: "Garrett has been a critical part of our success here at GW and we appreciate all the effort he has put into developing our student-athletes. His many years of administrative experience have well prepared him to lead the athletic program at UIC. We wish him and UIC success in the future"
Randy Levine, President of the New York Yankees and George Washington University Alum: "Garrett is a rising star in college athletics. He has the smarts, integrity, and leadership to lead his own athletic department. This a win for UIC."
Rob Mullens, Athletic Director, University of Oregon: "Congrats to UIC on a great hire. Garrett made significant contributions to the growth of Oregon Athletics and his set of experiences have prepared him for this opportunity. His energy and passion for the student-athlete experience will be a great addition to the UIC community."
Pat Kilkenny, former University of Oregon Athletic Director: "Garrett is a high character individual with a great work ethic. He clearly possesses all the tools and experience needed to lead a major athletic department. Garrett is not just one of the finest fundraisers I've ever been around, he is also a multi-dimensional thinker able to provide innovative concepts and vision at a critical time in the fast-changing environment of collegiate athletics. UIC is getting an elite, humble, collaborative leader who will serve the University and its students with great passion and talent."
Jamie Pollard, Director of Athletics, Iowa State University: "I am really excited for both Garrett and for the University of Illinois at Chicago. They hired a rising star in our profession. I have known Garrett since his days as an intern at the University of Wisconsin. It has been enjoyable to see how he has risen through the ranks to become a Director of Athletics. His experiences at Wisconsin, Tulane, Alabama, Oregon and George Washington have more than prepared him for this tremendous opportunity. I am confident he will do a great job leading the Flames athletics program."
Mike Bellotti, Former University of Oregon Head Football Coach and Athletic Director. Currently ESPN College Football Analyst: "Garrett Klassy is a wonderful leader who understands college athletics at all levels. He brings tremendous energy and excitement to the people around him. He is easy to get along with, will have a plan for improvement and concisely communicate that plan with passion. Garrett, from his experience at Oregon, Alabama and Wisconsin, will motivate the staff, student-athletes, coaches, boosters and administration to create one of the finest athletic departments in the nation."
Bill Moos, Director of Athletics, Washington State University: "I am extremely happy for Garett as he embarks on this wonderful opportunity. He was an all-star for us at Oregon and I could tell early on that he was going to have a successful future in intercollegiate athletics. His integrity, energy and passion for the student-athlete are genuine. He will do a magnificent job."
David Sayler, Director of Athletics, Miami of Ohio: "The University of Illinois at Chicago has made an inspired hire in its choice of Garrett Klassy to be the Flames' next athletic director. Garrett will bring his positive energy, drive and expertise to UIC and alums will quickly notice his focus on revenue generation and creating a positive vision for UIC student-athletes and the entire athletic department."
Jon Gilbert, Director of Athletics, University of Southern Mississippi: "Garrett will bring a great deal of energy and passion to the University of Illinois at Chicago athletic department. Garrett is a skilled communicator and excellent at building meaningful relationships. Garrett's positive, team oriented approach will be well received by the Flames student-athletes and fan base."