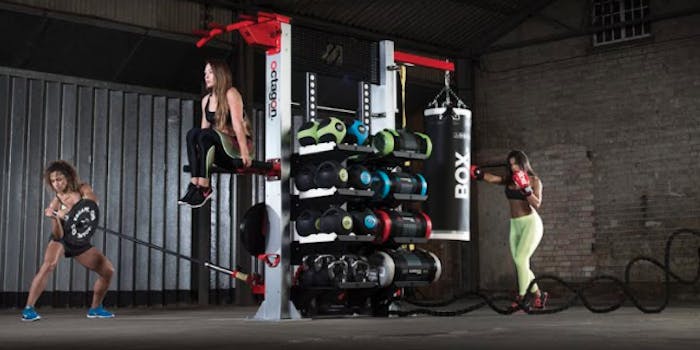 Source: Escape Fitness
Cincinnati, OHIO, July 26 2017—From functional, athletic and strength to combat, Octagon and training, Escape has launched products across every category from the improved favorites to the entirely new. Here is an overview of what's new for 2017 (so far…)
Functional:
VERTMINI.

More versatile

 medball 

with five extra weights added to the range

 for fast movements and partner-based games.
SLAMBALL SBX. Designed to be slammed and built for the toughest workout, now with improved durability with a 50% thicker reinforced SBX rubber outer shell.
PLYO360. Take plyometric workouts multi-directional for maximum results. 

Key to its performance is an octagonal shape that opens up opportunities for box jump patterns in frontal, sagittal and transverse planes.
Athletic:
AMMO BOX and AMMO BOX DIVIDERS. A stylish storage solution specifically designed for smaller training tools

with enough capacity for clubs with a wide range of functional training equipment.
Strength:
COMPETITION PRO KETTLEBELL 2.0. 

The upgraded version of our popular competition grade kettlebells 

includes a powder coated finish with engraved weight indications 

for better handling—now even more robust for longer life.

FRACTIONAL PLATES. Bring precision to lifts with fractional plates designed specifically for use with bumper plates.
Combat:
THAI BAG.Escape's first bag suitable for full-contact Muay Thai and MMA style workouts--perfect for leg strikes and combat training.
BOA MITT. A fingerless mitt for MMA-style training—combining combat and functional training in a single workout.
Octagon:
MONO.Compact, attractive strength station with Catch Racks for barbell lifts and an overhead pull-up attachment, available as a freestanding frame with feet and pads or it can be bolted to the floor.
BOA RAIL. This boxing bag rail for Octagon HTS frames enables bags to be quickly moved in and out so

 clubs can incorporate combat training into their group and PT sessions, hassle-free.

T2. A compact blend of functional frame, attachments and equipment storage—perfect 

as a hub for small group workouts, with users moving from station-to-station and tool-to-tool to get a whole body workout.
Training:
BATTLE FIT. Escape's military team-based, functional fitness group training program that focuses on high intensity 35-minute workouts. Tapping into the popularity of boot camps, it pushes participants past their comfort zones to their best ever fitness levels.
"At Escape, we are always developing and innovating—creating new products, striving to be the best we can be," said Matthew Januszek, co-founder, Escape. "It's who we are as a company, and it's how we continue to help our customers offer the best possible training experiences and solutions to their clients."
About Escape Fitness
Founded in 1998, Escape Fitness has built a reputation for product innovation, quality and design while growing and competing through great partnerships in challenging markets worldwide. We have helped improve the bottom lines of over 1,000 fitness clubs and key distributors in 80 countries. Committed to functional training since our inception, we work with clubs that invest in functional training spaces that will deliver the best possible exercise experiences; and we encourage fitness professionals and their clients to 'Escape Their Limits'. A mentality that is the foundation of our every offering. We are pleased to work with industry leading brands worldwide, including Equinox, Fitness First, Virgin Active, UFC Gyms, Crunch, Nuffield Health, David Lloyd, 1Rebel, 24 Hour Fitness, Marriott, Life Time Fitness, Jatomi and many more. For information:http://www.escapefitness.com/us