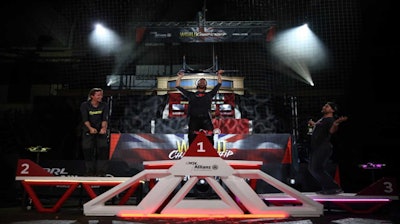 Source: DRL
For the second year in a row, DRL elite pilot Jordan "Jet" Temkin is named Best Drone Pilot in the World
NEW YORK (July 29, 2017) – The Drone Racing League (DRL), the global leader in professional drone racing, announced Jordan "Jet" Temkin, as the 2017 DRL Allianz World Champion. Fighting for the title of "World's Greatest Drone Pilot" all season long, Jet sped through the custom Grand Tour Finish Gate during DRL's fierce final race in the iconic Alexandra Palace in London. After racing against DRL's eight top pilots during a round robin format, and battling it through the seven most important heats of his life, Jet was crowned the DRL World Champion for the second year in a row. In 2016, the 25-year-old drone pilot from Fort Collins, Colorado placed first in DRL's inaugural season.
"We're so proud of Jet, a two-time DRL winner, who consistently navigated hair-pin, razor sharp turns with precision and speed," said DRL CEO/Founder, Nicholas Horbaczewski. "He has proven himself to be the best drone pilot on the planet, and we can't wait for him to return for the 2018 Season."
The championship race put Jet's drone racing skills to the test, where he raced the hand-built DRL Racer3 drone at speeds of more than 80 MPH, zooming through the first ever FPV Power Loop, a series of light gates covering 180 degrees, which forces the drones into an inverted dive at full speed.
"Being named the 2017 DRL Allianz World Champion feels surreal, and winning for a second season proves that practice pays off," said Jet. "Winning DRL allows me to continue doing what I love: drone racing all day, every day."
The action-packed 2017 Allianz Circuit Season Finale premiered Friday night at 9pm EST on ESPN, and will air internationally on Sky, Prosieben, OSN and Disney XD in 75 countries across the world.
The Drone Racing League launched in January 2016 as the only global professional drone racing organization, hosting five professional races in its inaugural season. DRL's '16 season reached more than 75 million fans around the world, including more than 33 million broadcast viewers and more than 45 million views of its digital content. Partners include title sponsor Allianz, Toy State, Amazon (Prime Video), Swatch, FORTO Coffee Shots and the U.S. Air Force.
ABOUT DRL
DRL is the premier drone racing circuit for elite FPV pilots around the world. A technology, sports and media company, DRL combines world-class media and proprietary technology to create thrilling drone racing content with mass appeal. In 2017 DRL is hosting a global series of six races, the Allianz World Championship, to be broadcast on ESPN, Sky Sports, ProSiebenSat.1 Media SE, Disney XD, OSN and other leading broadcast channels around the world. Founded by Nicholas Horbaczewski in 2015, DRL is a privately held company headquartered in NYC. For more information on the 2017 race season, visit www.drl.io. To join the conversation, follow DRL on Facebook at facebook.com/thedroneracingleague, on Twitter @DroneRaceLeague, and on Instagram @thedroneracingleague.