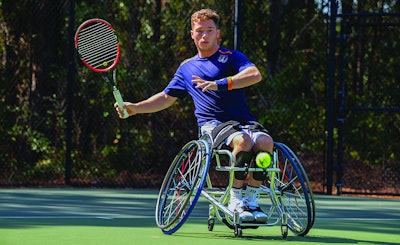 Source: PTR
HILTON HEAD ISLAND, SC — Professional Tennis Registry (PTR) is pleased to announce it will once again host the Wheelchair Tennis Championships on Hilton Head Island, September 21-24, 2017. 
Most of the world's top players, as well as all levels, including first time players, have competed in this event, which is part of the UNIQLO Wheelchair Tennis Tour and sanctioned by the United States Tennis Association (USTA) and the International Tennis Federation (ITF).  ITF named this event one of only seven Grade A Junior Tournaments in the world.
Spectators are welcome to enjoy the exciting exhibitions, as well as all the tournament matches.  See current and future stars in action!
Matches will be held at the Chaplin Park Tennis Center and Hilton Head Motorcoach Resort.  Tournament play begins at 9 am on Thursday September 21, and continues through Sunday, September 24, with Men, Women, Quad and Junior divisions.   
Tennis is the only integrated sport; one in which an able-bodied player can compete against a wheelchair athlete, or have both able-bodied and wheelchair on the same team for doubles!  An Up/Down pro exhibition will be held at Long Cove Club at 4:30 on Tuesday, September 19.  The exhibitions are doubles matches featuring two wheelchair players teaming with two of the island's top pros.
Local tennis players are invited to join in a Run-Roll Round Robin 5:30-7pm on Wednesday, September 20, at Chaplin Park.  Interested players will be partnered with a wheelchair athlete, and should contact Julie Jilly at julie@ptrtennis.org.
Volunteers to help serve lunches, and ball people of all ages are needed.  Great community service hours for students!  Volunteer for an afternoon or for the entire tournament.  To volunteer, or for more information, please contact Paige at 785-7244 or paige@ptrtennis.org.
If you would like to donate funds, bottled water, food for lunches or other items for the players, such as court towels, hats, etc., please contact Julie at 785-7244 or julie@ptrtennis.org.
Sponsor a player to help defray their entry fees and other monetary outlay.  $125 covers the entry fee for a player in need, while $500 would cover entry and accommodations.  Most wheelchair players are not sponsored and must incur travel expenses, lodging, entry fees and equipment.  For details, please contact Julie at 785-7244 or julie@ptrtennis.org.
Local sponsors include the HHI Pro League, Coastal Plains Insurance, Carrabba's, Mangiamos, Whole Foods and Chick-fil-A.
About PTR
PTR is the largest global organization of tennis teaching professionals with more than 15,700 members in 125 countries.  It has the greatest percentage of multicultural and women members of any such organization.  PTR is dedicated to educating, certifying and servicing tennis teachers and coaches around the world in order to grow the game.