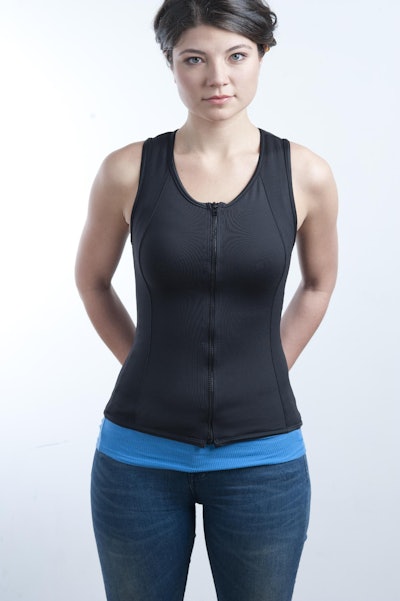 Source: Spand-Ice & Heat On-the-Go
Wearable Ice + Heat Therapy for Back Pain Relief, Recovery, and Support
New York, NY – August 8, 2017 – Spand-Ice, a USA based company that manufactures wearable hot/cold therapy to relieve back pain, recently launched The Revive Tank. This lightweight, comfortable vest has a contoured design suitable for both genders. It's easy to wear and treats pain on-the-go.
Back pain plagues millions of Americans yearly and is the single leading cause of disability nationwide. Current back pain treatment methods can be messy, time consuming, or habit forming as with the recent opioid epidemic. Spand-Ice has created The Revive Tank to get pain relief without the hassle.
This market disrupting thermal therapy garment can be work on its own or discreetly under clothing to treat muscle pain and soreness, or to reduce inflammation without having to hit pause on life.
The Revive Tank's unique design has two therapy pockets for hot/cold therapy packs, allowing for targeted treatment of both mid and lower back pain for 3+ hours. An adjustable compression straps secure the vest in place while providing maximum coverage, comfort and support. Work, exercise, sleep, drive, or relax, all while treating your pain using a natural solution in a modern design.
The Revive Tank comes in Men's and Women's styles, sized Small – XXL. They are MADE IN THE USA and can be purchased at www.spand-ice.com for $125 which includes 2 Revive Thermal Therapy Packs.
About Spand-Ice
Spand-Ice was founded by Helen Behn to help find wearable relief for her own chronic back pain. Helen struggled to balance an active lifestyle while living with her back pain for most of her adult life. Part of her everyday routine became heating her back before working out and icing afterwards, but it wasn't easy to stick to. A lot of products she tried were uncomfortable, inconvenient, messy, and time-consuming to use. Together with retail experts and medical advisors, she set out to design and create quality gear you can use anywhere at any time to relieve pain, inflammation and muscle soreness. Helen launched Spand-Ice and the Revive Tank though Kickstarter and has also developed additional pain solutions for injury prevention and recovery; and maternity and postpartum pain relief. www.spand-ice.com, @spand_ice.