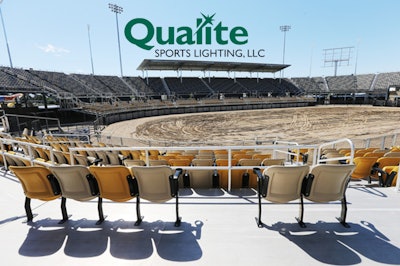 The Utah State Fairpark, located in Salt Lake City, Utah, is the new home to Days of '47 Rodeo where it will be permanently located. The $17 million, 10,000-seat, arena, built in eight months, chose Qualite Sports Lighting as their preferred lighting partner and expert. This arena is a destination for many. It was designed to hold other events such as concerts, motorsports events, demolition derbies, equestrian events, and other rodeos.
Eric Boorom, Qualite owner, feels that "this was a great project for Qualite in Utah, considering the economic impact this new arena will have on the State and the city of Salt Lake. We do everything we can to support these types of economic development projects."

Roman Slaybaugh, Rocky Mountain Sales Manager, adds, "When I first heard about this project, I knew it would be big for the west side of Salt Lake City and I knew Qualite would be able to help. We presented Qualite's expert knowledge in large area lighting, which spans across over 30 years of experience, and because of this we were chosen for this project."

The Days of '47 Komatsu Equipment Cowboy Games kicked off on July 19, 2017, where cowboys were competing for the $1 million gold medal. For more information about the rodeo, visit Daysof47.com or for more information about Qualite Sports Lighting please visit Qualite.com.


About Qualite Sports Lighting, LLC
Qualite has been the sports lighting partner for high schools, colleges, parks and recreation departments, and minor and major league professional sports franchises for over 30 years. Qualite's, award-winning, Q-LED GameChanger™is the first high performance sports lighting system designed for all sports venues — from youth to professional sports stadiums — with a focus on great connectivity and functionality at affordable pricing.

Log in to view the full article