Source: Precor
Woodinville, WA —The latest global software release from Precor, Preva OS 7.0, is bringing popular audio and video entertainment options and further advances to networked consoles featured on Precor cardio equipment across 82 countries.
With over 62,000 Preva networked consoles worldwide, Precor leads the way in fitness technology and continues to improve its offering for operators and exercisers through ongoing automatic and seamless software updates. This update targets Precor cardio equipment featuring the latest touch screen consoles, the P82 (15-inch screen) and P62 (10-inch screen).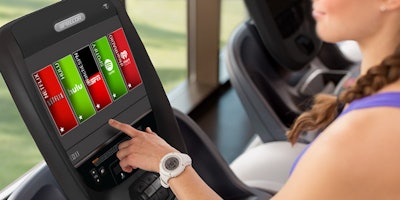 Along with delivering on its promise of 'fitness made personal' by enabling exercisers to access their personal audio and video entertainment app accounts via networked Precor consoles, this software release brings tools and services to enable facilities to deliver on their business model through the Precor console.  
"We have expanded the capabilities of the MyUI™ suite of tools with a new feature called 'Manage Apps', which allows operators to select which media and entertainment sources they want to make available on the networked Precor consoles," explains Jeff Bartee, Principle Product Manager at Precor. "Our customers want control over how they deliver their brand experience and reach optimal business health."
In addition, the 7.0 software release enables Single Sign On (SSO) relieving exercisers of the need to enter a login and password for each entertainment app, allowing them toaccess their workout more quickly.  Now, with a single touch, exercisers need only input their account credentials once in the Preva operating system, giving them instant access to their personal audio and video entertainment apps.
"Precor continually strives to personalize the exerciser experience. Enabling single-touch access and using as much of the console screen as possible to display an exerciser's preferred video service were crucial requirements to delivering a compelling experience within the context of a workout," comments Bartee.
With personalization comes the need for privacy. The MyProfile app also debuts in this release to allow exercisers to be in control of their information and easily manage their Preva account information and third party app login credentials.
The Preva 7.0 release enables a new option, the media adapter, for P82 and P62 customers.  The media adapter supports the Pro:Idiom™encryption needs of hotels and connection to a DIRECTV® set-top-box for access to hundreds of High Definition (HD) channels.
Bartee concludes, "Exercisers compare our digital experience to what they have on their phones. The Preva 7.0 release meet that threshold by enabling a single touch launch of apps, providing the ability to personalize the layout of the home screen, and delivering curated, compelling, and fresh content on a regular basis. No one else does that."
About Precor
Precor, headquartered in Woodinville, WA, designs and manufactures premium end-to-end commercial and at-home fitness solutions. Precor delivers the personalized products, service experiences and resources operators need to grow their businesses, and the tools exercisers need to reach their fitness and lifestyle goals. Since 1980, Precor has been a pioneer in creating innovative fitness solutions for customers, including the EFX® Elliptical, Adaptive Motion Trainer® AMT® and Preva® Networked Fitness.  In 2015 Precor added Queenax™ functional training to its product portfolio and announced its partnership with Spinning®, the world leader in indoor cycling.  Six new Spinner® bikes were launched in 2016.   Precor is part of Amer Sports Corporation, one of the world's largest sports equipment companies, with internationally recognized sister brands that include Wilson, Atomic, Suunto, Salomon, Arc'teryx and Mavic.