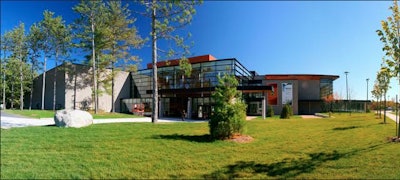 Source: Legend Recreation Software
After a comprehensive procurement process, the Trent University Athletics & Recreation Department (Trent Athletics) has awarded Legend Recreation Software with the contract to provide its new registration, sport and recreation management software.
Legend was selected for its capabilities in streamlining registration for sport and recreation services, while significantly enhancing the customer experience for Trent students, community members and program participants. Other benefits include facility booking functionality, online self- service and membership sales, personal training booking, equipment rental, POS, business reporting, streamlined access management, and the ability to integrate with the Trent University student and staff/faculty card as well as the Finance Department.
Trent Athletics provides sport and recreation opportunities to all Trent students on the Peterborough campus through a student membership, and delivers a variety of sport and recreation services to the greater Peterborough community through memberships, aquatics, fitness, and youth development (including summer camp) programs, and facility rentals.
As Deborah Bright-Brundle, Director, Athletics & Recreation at Trent University, explains: "Legend was the successful proponent in the RFP process as their product offers the most innovative, flexible and scalable solution which could fulfil our needs. Legend invests a large amount of time and effort into product enhancement and development, which means that the Legend system has the capability to meet both current, as well as future, requirements."
Legend has been successfully implemented at over 1,500 recreation centres across nine countries. Founded in the UK in 2002, Legend entered the Canadian market in 2015. Canadian organizations who already benefit from the Legend system include The City of Hamilton and the City of Woodstock, where Legend technology is already delivering operational and customer service improvements. The City of Ottawa is the latest in a long line of Recreation Providers who are adopting Legend technology and services.
James O'Brien, Director, Legend Recreation Software, comments: "We are delighted to have been selected by Trent University. They are now officially the first Canadian University to "Go Live" with Legend, and join the ranks of many other Academic Institutions globally. We look forward to ensuring the university's seamless transition to the new system and delivering tangible benefits to customers and management alike."