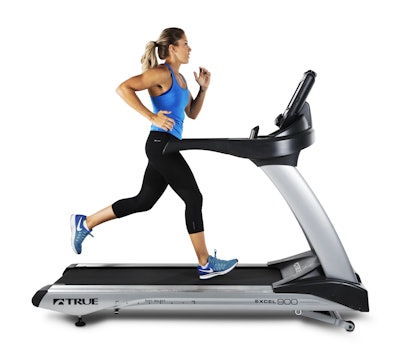 Source: TRUE Fitness
New Aesthetics and Welcoming Design for Fall 2017 Retail Season
St. Louis, MO (August 21, 2017) – TRUE Fitness Technology, a leading home and commercial fitness equipment manufacturer, introduced a refreshed design on their most popular treadmills, bikes and ellipticals for consumers. These high-performance cardio machines combine health club-level technology, quality, and design to help home exercisers reach their fitness goals.
"Our redesigned Excel 900 treadmill and refreshed Performance Series and ES Series consoles incorporate the same advanced technology and design features TRUE is known for with an updated look for the upcoming retail season," said Matt Hacker, Vice President of Sales and CSO of True Fitness. "As much as technology and features are important, we also know that aesthetics and a welcoming design play an important role in the consumer's buying decision."
The new Excel 900 treadmill, Performance Series treadmills, and ES bikes and ellipticals are all designed to deliver a high-quality home workout experience, whether an exerciser is just starting out or training for their next race. Each model comes with advanced design features and optional technology features.
Excel 900: The Excel 900 Treadmill, previously known as the ES900, features commercial-grade components and technology for a premium at-home workout experience. The re-designed base features a sleek and welcoming get-on-and-go look that will encourage any fitness routine. Exercisers can maximize workouts on this award-winning treadmill with TRUE's patented HRC Heart Rate Control®. In addition, the patented low-impact Soft System® running surface featuring Soft Select® controls the level of softness or firmness of the Excel 900's deck. The low-maintenance design backed by a lifetime warranty on the motor and frame means that exercisers can focus on reaching their fitness goals instead of equipment upkeep. Multiple console options provide customizable technology and features to meet every family's fitness needs.
Performance Series Treadmills: The Performance 800 features a Transcend9 Touchscreen Console. The reinvigorated console features a sleek black design with blue accents will bring a modern look to any home gym. Featuring connectivity via Bluetooth to your mobile device for audio, heart rate monitoring, and app communication, the Transcend9 is also compatible with Wahoo Fitness to trace and track workouts on your favorite fitness tracker. The Performance 100 and 300 feature a refreshed 7" LCD Console in a smooth black design with modern accents, offering a variety of challenging pre-programmed workouts to keep fitness routines fresh and provide variability for other users in the home. The console also features connectivity for Wahoo Fitness to track and store workout information.
ES Series Bikes and Elliptical: The ES Bikes and Elliptical incorporate patented TRUE technologies to provide home exercisers a comfortable fitness experience and feature touchscreen technology with the optional Transcend9 Console. This premium console has been refreshed with the same look as the re-designed console of the Performance 800 treadmill. With intuitive navigation, advanced Bluetooth connectivity, and all-encompassing entertainment, the Transcend9 is one of the most premium consoles TRUE offers to home exercisers.
Availability of specific models featuring these updates is expected Fall 2017. Specific models with this update will ship when previous model inventory is depleted and new models become available. For more information, contact TRUE Fitness at www.truefitness.com.
About True Fitness:
TRUE Fitness is a leading manufacturer of premium fitness products, including full lines of cardio and strength. Dedicated to outstanding quality and superior design, the company and its fitness equipment are consistently ranked among the top in the industry. TRUE Fitness is based in St. Louis, Missouri and has a network of dealers throughout the country and around the globe. Additional information about the company's products and services can be found at truefitness.com.